THE SECRET TO UNLOCKING SUSTAINABLE REVENUE GROWTH FOR AIRLINES
Sabre Airline Solutions® has released a whitepaper highlighting the business challenges faced by airlines in the area of customer experience. Brand differentiation and personalized sales and service are becoming increasingly strategic areas for leading airlines due to their market share and profit potential. In the whitepaper, Sabre discusses the unique complexities in the industry, analyzes new findings about revenue potential, and discusses ideal solutions for these problems in the market place.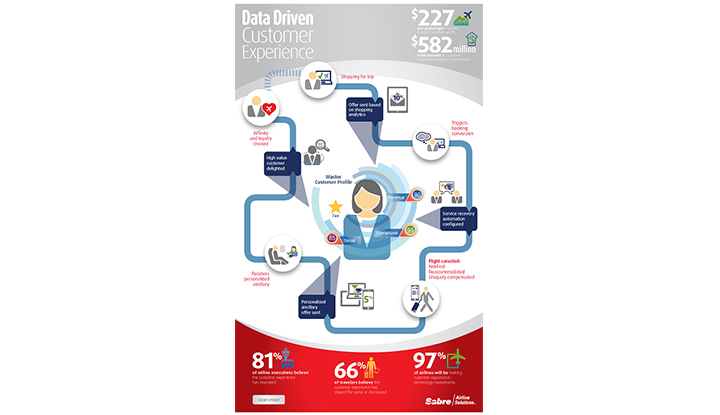 Investment in a comprehensive customer experience program empowers airlines to connect more deeply with their customers. Customer Experience & Personalization are functional areas that are currently emerging all across the airline industry, and for good reason. These investments, both in talent and in technology, will enable airlines to execute (and traveler's to receive) a personalized, seamless journey experience for the high-value travelers; those that continue to expect more and more from their air travel experience.
As airlines make the investment and travelers become accustomed to end-to-end personalization, high-margin ancillary sales and cost-saving service opportunities will become vital to optimizing the financial health for airlines. This infographic illustrates potential opportunities across the journey that airlines will have to strengthen customer loyalty while increasing ancillary revenue and improving individualized service.
To read the rest of the story, download the full whitepaper!