Airports have undergone massive evolution over the past decade. No longer simply transit points, airports are unique microcosms of the modern travel experience. Mega-airports, such as Singapore Changi, have mastered the art of revenue generation by deploying familiar urban planning principals alongside standard aviation operations needs to craft a city-like experience. Regional competition for traffic makes a stellar passenger experience critical for the airport of tomorrow to thrive.
Within this modern temples to aviation are a mess of competing interests. With each airline comes planes filled with passengers from all over the world. Each has a unique profile and seeks something specific from the airport space. Culturally diverse, these passengers bring a broad set of expectations to the airport experience. And in order to successfully meet these expectations, airports must not just be designed with the passenger in mind but also place the passenger as the heart of daily operations.
After all, if passengers are happy, they tend to spend more money in the airport. And for the airline, a happy passenger fosters loyalty. Together, the airport and the airline are united in the understanding that a passenger-first focus builds more opportunities for all.
The proof is in the passenger
Today's travelers are eager to explore airports like never before. Whether its a business traveler choosing an aiport for its preferential retail offerings or a leisure traveler eager to splash out one last time at duty-free, the airport experience matters. Recent research from the team at Priority Pass found that a majority of frequent travelers are finding more value in the airport experience.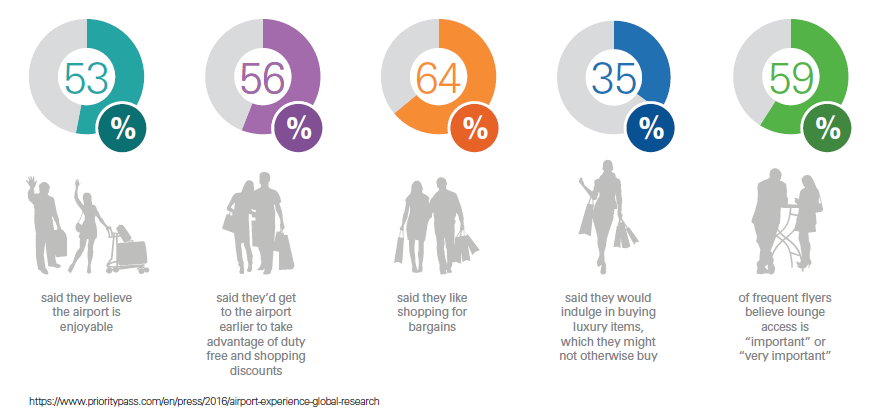 Technology plays a critical role in the airport experience for the most seasoned travelers. Compared with just 21 percent, 41 percent of frequent flyers engage with airport mobile apps. Clearly, this channel is a useful one when communicating with the traveler. By combining communications through other channels, such as airline branded apps, airports can keep connected to each day's passengers.
The 5 steps to passenger-centricity
There are some clear steps for today's airport to take as it evolves into the airport of tomorrow. From listening to customers to monitoring passenger flows in real-time, technology steps up to process more datapoints than ever before. Translating this data into actionable intelligence gives airports an advantage, as airport operations can focus on the important day-to-day touchpoints that make or break a passenger experience. Technology enables this level of granular, real-time service, building intelligence and capacity within an airport's network to foster a culture of hospitality across the operation.
To outline how proactive, smart systems can work together to maximize airport efficiency and profitability, download the full resource here. It's a deep-dive into the elements of an impactful, passsenger-centric system that fuels the airport of tomorrow.