Today, Sabre Airline Solutions® releases a whitepaper highlighting the business challenges faced by airlines in the area of customer experience. Brand differentiation and personalized sales and service are becoming increasingly strategic areas for leading airlines due to their market share and profit potential. In the whitepaper, Sabre Airline Solutions discusses the unique complexities in the industry, analyzes new findings about revenue potential, and discusses ideal solutions for these problems in the market place.
The quality of the customer experience in most industries is directly correlated with a company's market share and earnings. While research shows that the airline industry follows a similar metric for customer experience success, many airlines have been unable to cultivate the organizational prioritization and subsequent capital investment necessary to execute a comprehensive customer experience program.
Historically, industry profit margins have been so thin that non-core initiatives became very challenging to implement. Industry influences such as deregulation and increasing global competition have pressured airlines to shift their product to a progressively unbundled, a la carte offering. Instead, strategic focus has been placed on operational efficiency, fuel burn, load factor, staff reduction and other cost-cutting measures that have slowly deteriorated the investment in the customer.
"The average airline spends about 2 percent of its revenues on technology, compared to about 30 percent each on fuel and staffing," industry analyst Henry Harteveldt told The Economist Intelligence Unit in a recently published special report. "Even increasing investment in technology to around 5 percent of revenues could have enormous benefits."
According to one study, the airline industry ranks in the bottom 4 percent in customer satisfaction. The top industries in customer satisfaction include e-retailers, automobile manufacturers and smartphone manufactures. The industries that customers are least satisfied with are mortgage lenders, Internet service providers and… airlines. The trouble is, many airline leaders and decision makers are disconnected from their customer's expectations.
81 percent of airline executives believe that customer satisfaction with the air travel experience has somewhat or significantly increased. However, 66 percent of customers believe it has stayed the same or decreased. (Figure 1)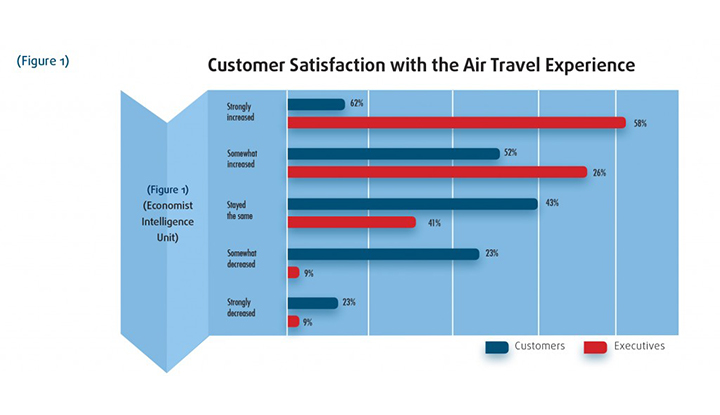 Airlines do not have full control over certain negative experiences such as airport operations and service disruptions. They can, however, move a step beyond the basic customer service and customer interaction tactics into a next-generation model of a data-driven customer experience that focuses on personalizing an airline's offerings to a specific individual.
The ability to offer a data-driven customer experience is the single most lucrative opportunity in the industry today. Research has proven that intelligent personalization throughout the traveler's journey creates significant revenue, reduces costs, and creates sticky, long-term loyalty with customers. As such, airlines that strive for innovation and investment in the customer experience will soon be leading the market.
To read the rest of the story, download the full whitepaper!