Around the world, criminals are selling people for profit.  At any given time, an estimated 2.5 million people are trapped in modern-day slavery, which is estimated to be a $150 billion industry. Today, July 30, marks the United Nations World Day Against Human Trafficking, a declaration to raise awareness of  human trafficking victims and promote the protection of their human rights. On this day, Sabre is honored to highlight the inspiring organizations we have had the privilege of partnering with as part of our commitment to fight human trafficking through Passport to Freedom.
Since the program launched in 2012, Passport to Freedom has promoted the awareness of trafficking within the travel industry and beyond through education, advocacy and collaboration. Working with corporate, government, and non-profit partners, our collective efforts focus on training others to recognize victims, help them in their recovery, and bring their traffickers to justice.
Last year, Sabre teamed up with United Way Worldwide (UWW) to help build a coalition of anti-trafficking stakeholders. The goal was to elevate and scale a collective response to the issue of trafficking. In June, UWW officially announced the launch of its Center on Human Trafficking and Slavery with Sabre as a founding partner and sponsor. The Center, a virtual collective impact model, is designed to create forums for cross-sector collaboration and drive comprehensive policy solutions to eradicate modern day slavery.
"We are grateful to be partnering with Sabre, one of the largest technology companies in the world, as a founding partner of our new Center to combat human trafficking at United Way.  You can't help but be taken aback by the diversity of people and communities affected by trafficking," said Brian Gallagher, CEO, United Way Worldwide,  "An issue this pervasive can only be addressed by an equally collective response.  Our partnership with Sabre is allowing us to bring diverse sectors together to elevate our response to this growing problem."
As part of the June announcement, the Center hosted the first in a series of forums for trafficking stakeholders. This inaugural event convened advocates from the non-profit and faith-based sectors. Attendees took part in discussions about how to increase victim identification, expand access to services for survivors, eliminate slavery in business supply chain, and increase prevention efforts.
This fall, Sabre will work to connect our broad network of global travel and technology partners with the Center as part of an upcoming leadership forum. Through the cooperative efforts of these organizations, we can achieve social change that goes beyond what one sector can achieve alone. This public/private partnership model has a track record of success. Non-Profit organizations like Thorn have made huge strides in using technology to help fight trafficking. The Thorn Tech Task Force includes over 20 companies like Google, Facebook, and Salesforce that lend their knowledge, time and resources to combat predatory behavior, rescue victims, and protect vulnerable children.
The tremendous efforts of these corporate partnerships have already made a significant impact to our industry. Resources like our online training program and the new program from ECPAT-USA  , "Does Your Hotel Know?" , have been created to educate travel industry employees and their customers. Additionally, Global Business Travel Association (GBTA) Foundation announced their partnership with ECPAT-USA this week which calls on all travel and tourism businesses to sign the Tourism Child-Protection Code of Conduct and commit to trafficking awareness.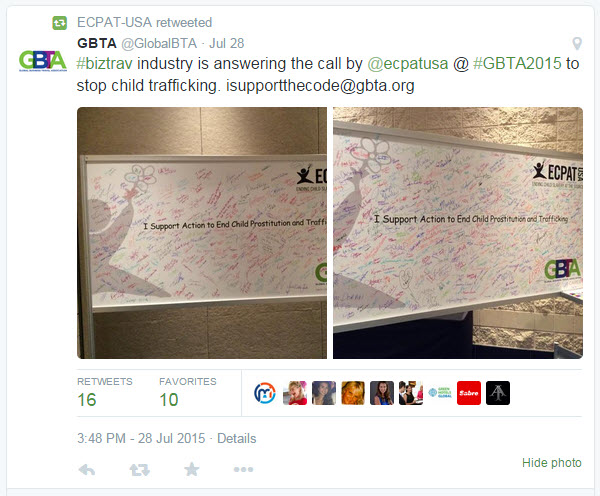 In partnership with BCD Travel, Carlson  Rezidor Hotel Group, Hilton Worldwide, Wyndham Hotel Group, Covenant House and Silicon Valley Community Foundation, an academic scholarship fund for human trafficking survivors launched in January 2015 as the newest component of Passport to Freedom.  In its first year, five scholarships were awarded to trafficking survivors to help them receive the education they need to gain long-term sustainable employment.
Once victims are enslaved, they are without a voice or someone to stand up for them. Organizations, industries and individuals around the world must continue to come together in unison to be their voice and bring an end to modern day slavery.
"Every country must join together to overcome this transnational threat by supporting and protecting victims while pursuing and prosecuting the criminals. On the World Day Against Trafficking in Persons, let us resolve to act as one in the name of justice and dignity for all." – Ban Ki-moon, Secretary General, United Nations