Among the highlights of Sabre's marquee STX Singapore event in August was its "Voice of the Customer" breakout session for airline executives. The session centered on giving the airline audience insights into corporate buyers' and TMCs' highest priorities, and revealed that the executives believed addressing traveler experience and cost control were top concerns for both groups.
The more than 50 airline representatives that attended the session gained a valuable look into the corporate buy-side through a panel discussion moderated by Rakesh Narayanan, vice president of airline of business at Sabre Travel Network. Sanghamitra Bose, general manager Singapore and Thailand at American Express Global Business Travel Business provided the panel's TMC perspective, and Kate Sibbett, APJ director, strategic sourcing and enterprise services (SSES) for MSD, a pharmaceutical company, provided the corporate buyer perspective. Additionally, the panel solicited feedback from the audience on what they thought were TMCs' and corporate travel buyers' priorities.
To further help the airline audience understand the corporate customer better, the airline representatives were polled on what they believed were the top three priorities for corporate travel buyers when choosing an airline for business travel.
The poll found that while the airline representatives thought that costs and company travel policies were always chief considerations among corporate travel buyers, they also believed that the buyers prioritized a need to strike a balance between ensuring that employees felt both safe and ready to take on their business meetings the day after their travel. As such, one could conclude corporations need to exercise more flexibility in their travel policies now than before.
The session's corporate travel buyer poll also found that the airline execs believed corporate travel buyers saw duty of care and compliance as key considerations as employee safety is paramount.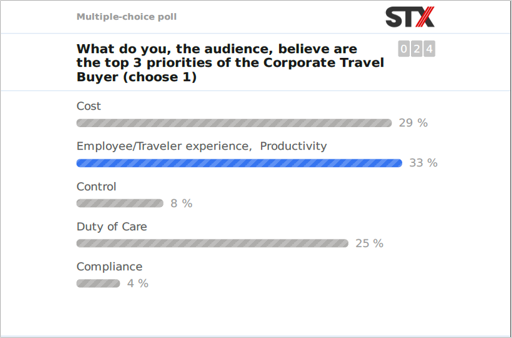 In a second poll, the audience was asked about what they saw as key priorities for TMCs. Fifty percent of the airline respondents felt that TMCs' highest priority was helping corporations manage their travel costs. The panel's experts added that a key value TMCs bring to corporations is the content they provide, such as ancillaries. Content, including LCCs and the right ancillaries, ensure that corporate travelers have a wide selection of travel options to pick from.
In addition, the TMC poll revealed that the airline representatives saw that having effective decision support tools to help companies understand spending patterns and to support employees in distress were good value-adds TMCs bring to their corporate customers.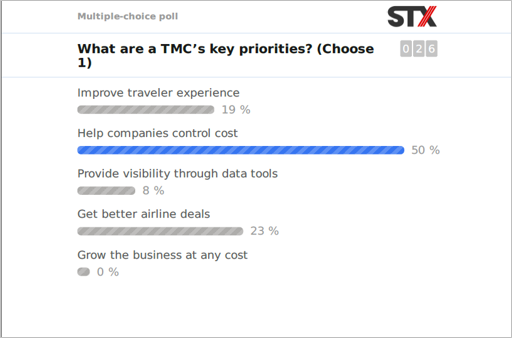 In all, the session highlighted that the corporate travel landscape is changing for both corporations and the TMCs, particularly in how corporations view their TMCs and what value the TMCs can bring to the corporations. While different corporations may have different needs and priorities, content will remain a priority. Airlines were encouraged to engage with both TMCs and corporations to ensure that relevant content is presented to business travelers in a consistent manner in order to meet their expectations.