We're giving you more! Thanks to Sabre Media Solutions, we now offer:
Exposure to our 425,000+ Sabre connected travels agents booking over $120,000,000 in travel.
More ways to grab your share of the 900,000,000 total impressions viewing offers.
Increased customization abilities means MORE value!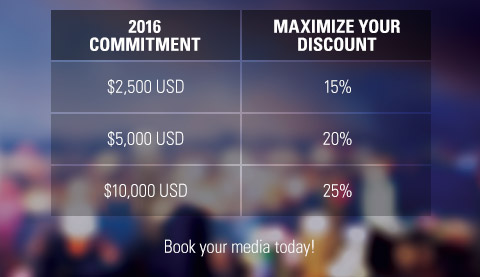 You can create your own package from our products below and learn more about any of our products in our Media Kit.
• Sign In Messaging
• PromoSpots
• Email Marketing
• Creative Services
Both graphical and text options are available for Sign In Messaging and PromoSpots.
Offer details
Contract must be signed and returned by June 15, 2016.
100% of the investment spend must be met after applying discount.
Offer is valid for multiple campaigns starting January 1, 2016 through June 30, 2016.
Promotion can be combined with any other Sabre promotion in 2016.
Option to pre-pay or be billed as incurred during 2016.
All campaigns that qualify toward the commitment spend level must be implemented by June 30, 2016.
Any remaining balance of the unused committed spend will be billed on September 30, 2016.
Advanced planning of campaigns recommended. Product placement subject to availability.