The Information Revolution is the explosion in the variety and quantity of information available to individuals and organisations. This is what has brought us the "Big" in Big Data.
The impact on businesses is felt everywhere. At its simplest, companies enjoy more efficient and effective ways of doing business. At its most complex, this abundance of information enables product and process innovation, as well fuels new business models. Within this frame of constant change and endless information, how can businesses encourage customer loyalty?
A paradigm shift in how to keep customers happy
Having studied retention and loyalty practices around the world for over two decades, I see firsthand the profound impact that the Digital Revolution has had on customer loyalty.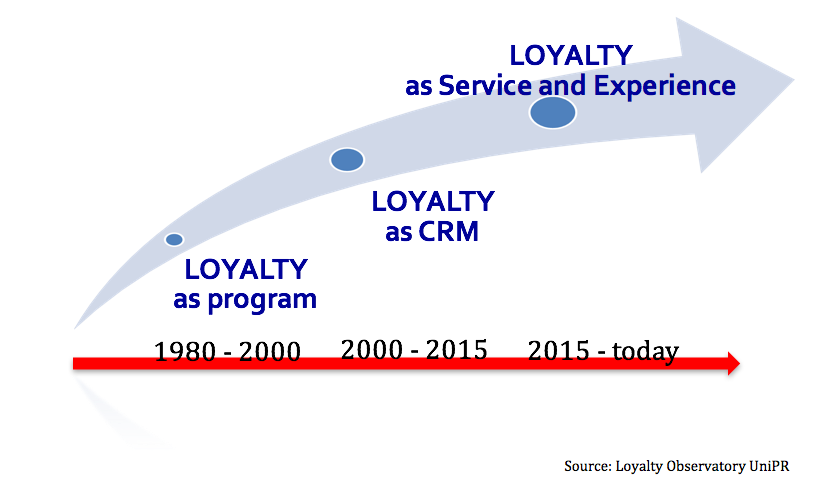 Since American Airlines introduced the first loyalty program in 1984 and until the end of last century, loyalty marketing has meant running a loyalty program. It was simply a part of the business aimed at getting customers to patronize the business repeatedly.
Soon, companies realised that a lasting competitive advantage in retention was only possible if customer insights (collected in the company database by means of the loyalty program, was used to improve promotions and marketing decision making: that was the beginning of loyalty marketing as Customer Relationship Management.
Why is customer experience management necessary today? I like to sum it up like this: because customers are in control.
Over the past few years, the digital revolution transformed consumers habits and expectations. Today, businesses realise that loyalty is achieved by giving customers great service and experience. Welcome to the new era of Customer Experience Management!
The six elements of today's digital consumer
Digitally empowered customers have six key characteristics. Each is relevant for businesses who want to market to them and thrive in the new paradigm. These are:
Well-informed and always online
Non-linear shopping journeys
Endless choice
Pressed for time
Little attention
Expect best price, best quality, best service
Marketers can leverage the opportunities offered by the Digital Revolution and become "inspirational curators" of content and assortment relevant to them.
On becoming inspirational curators
Businesses that want to most fully engage with today's digital consumers must curate items that engage and inspire customers. This includes the way that the business structures its own operations.
Businesses should make their assortments and product ranges transparent, while curating a relevant and engaging shopping experience that keeps the customer's interest. Shopping should be easy and convenient. Offers should be personalized. Whether you ask a customer for more information or use past behavior to target, strive to buid offers tailored to each customer. You will make more money while also increasing customer satisfaction!
As far as communications, it's essential to connect with customers across all channels. While some channels might be less convenient to the business, that just doesn't matter. Customers want to communicate on channels that work best for them! That means going to wherever your customers want to communicate with you.
Finally, be sure to respond as close to real-time as possible. Delays create frustrations and that can lead to escalating situations.
Designing for 'Customer Experience Management'
Consumers evolve their sensorial, affective, cognitive, relational, and behavioural responses to a brand by living through a journey of touchpoints. As they move along pre-purchase, purchase, and post-purchase situations, they create associations and conclusions. This is the customer experience. Our "marketing mix" is not as we see it but as customers experience it.
We then need to take the perspective of the customer to achieve long-term customer loyalty. Our task becomes that of designing and continually renewing touchpoint journeys. This is done by designing touchpoints that are connected, consistent, context-aware and branded.
This is Customer Experience Management. It takes some of the same skills and activities that are at the core of CRM: collecting touchpoint data, integrating data from different sources, deriving insight, and sharing insight across the organisation.
But for true Customer Experience Management, CRM must be taken to the next level. This is strategic in nature, as it has to do with designing customer experiences. It takes creativity, openness to collaboration (also with competitors). And most importnatly, it takes the ability to consider your own business with a fresh look: that of the customer, no your own!