After years of roadshowing around the world, the Destination Hack has landed in Singapore.
RELATED: Browse more coverage of our hackathons. 
Over 150 developers, designers, and entrepreneurs from 5 different continents gathered together in Singapore for Sabre's annual global hackathon. After an intense all-nighter, 30 teams competed for a grand prize of $10,000. The objective? Reinvent travel by creating the best new application from scratch using Sabre APIs, sponsor APIs (including GIATA, Twilio and Expedia) and various open-source technologies. The talent was top notch and the competition was fierce. As a result, this group of incredible global talent made some excellent inroads into reinventing the travel experience.
Enjoying the mid-October weather, developers mingled at the opening night party held at The Loof, one of Singapore's best rooftop bars. The networking and camaraderie of opening night event sets the tone for the whole weekend. In fact, roughly half of the teams at the hackathon formed at The Loof.
The next morning, you could feel the excitement in the air at our base at the Impact Hub, a hip co-working space in Singapore.
After opening statements, sponsorship talks, demos and presentations, the time clock was started and the participants got to work. The pace was everything you'd expect in a hackathon: lively, fast and active. We were staffed with tech experts from both Sabre and our sponsors to answer any questions that came up — and, of course, we were there to keep up the excitement and fun during the extended hours!
The early hours
Many solutions began to emerge as developers coded long into the early hours. As time went on, a variety of projects surfaced, including projects around inspiration shopping, AR/VR, chatbots, Chrome extensions, travel disruption and bleisure travel.
Forward-looking solutions that address true painpoints are important for two reasons. First, they address and attempt to solve common issues experienced by today's traveler. Second, they leverage current technologies and personify trends in development. Chatbots, for example, have been an emerging trend over the past year. Early indications of growth in the segment suggest this as the next realm for innovations in travel.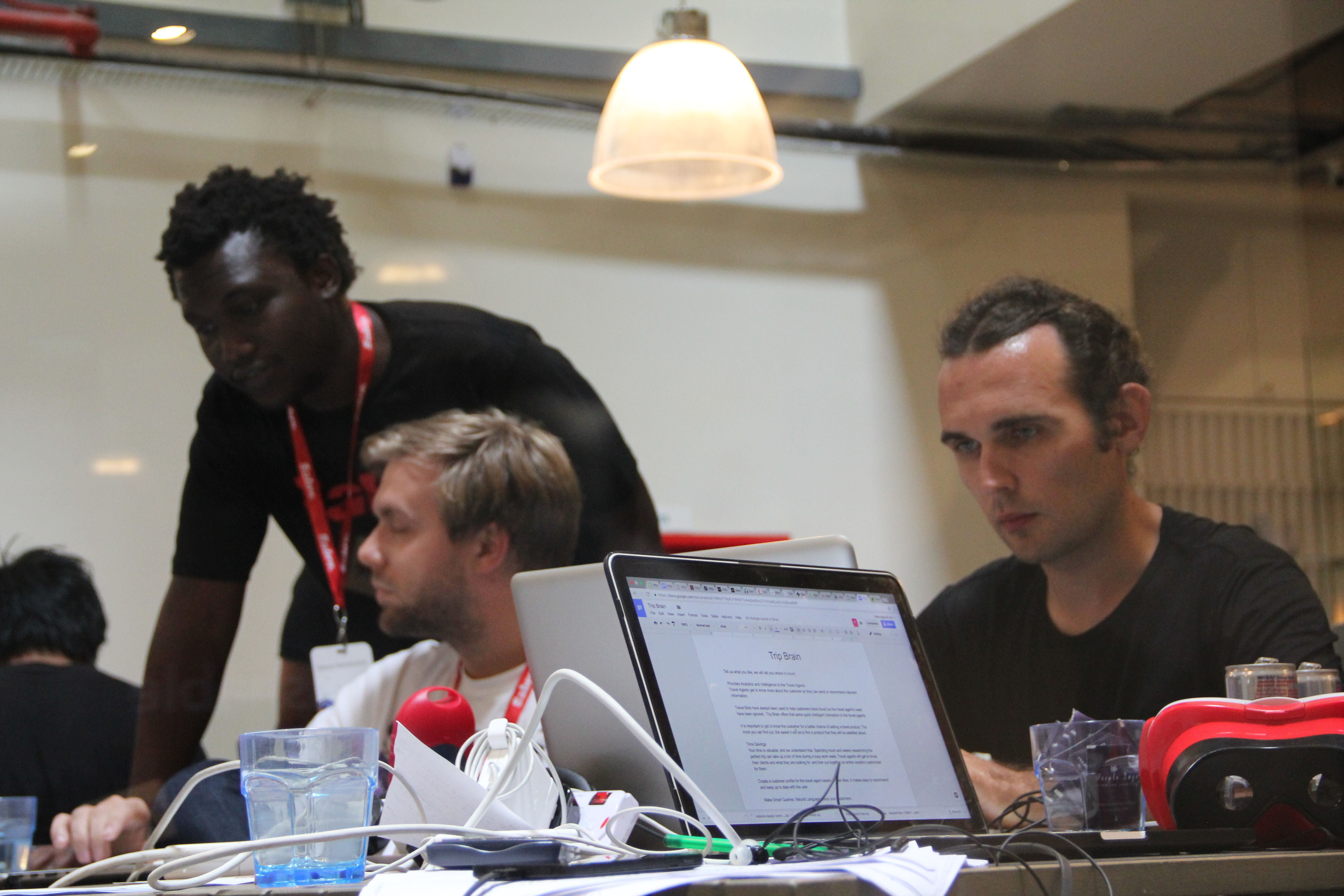 Other points of interest, such as bleisure travel and the integration of mobile, address today's active traveler who wants to manage their itinerary wherever and whenever. Therefore, not only did many of the projects address specific industry needs but expanded upon current realities in travel tech today.
"There was a lot of opportunity to learn from other developers while at the hack, including how to encounter problems and solve them," said Anthony Ma, whose project CreditCardsOffer won a prize for the Best New Widget Idea. "A hipchat group had been set up, which allowed for lots of interaction as we finalized our projects."
The hackers turn to the judges
Eventually, time drew to a close as developers began to submit their projects to DevPost and prepared to present to our panel of judges. Comprised of some of travel's brightest executives from Sabre and beyond, this included:
David Moore, SVP Software Development at Sabre
Roshan Mendis, SVP at Sabre Travel Network
Anupam Bokil, VP Technology at Sabre APAC
Poi Hierro, Software Development Manager at Expedia
Jason Shi, Director R&D at Ctrip
Toni Portmann, CEO at DHISCO
Toni Portmann, CEO of DHISCO who sponsored the Most Likely to Succeed award, found outstanding creativity of the teams — many of which had little to no experience in the travel ecoystem:
When you open up the aperture for creative thinking, there is no limit to the ingenious designs and models these developers can create. It's amazing that participants could walk in, write to, and connect with the Sabre APIs. They turned out working code and demos as if they had been managing their solutions for years.
After 3 hours of fantastic presentations and deliberations from the judges, a clear winner emerged. Moments was named the grand prize winner, with its itinerary management solution for the decision support bar in the new Sabre Red Workspace.
Grand Prize Winner: Moments
Moments was built for the Decision Support Bar in the new Sabre Red Workspace. The widget pushes aggregated events from a variety of sources (Eventbrite, Meetup, Expedia), which then enables the travel agent to suggest different 'moments' to clients. This easy personalization results in additional revenue and loyalty opportunities for agents while making the agent a true partner to the traveler. Moments is also a way that travel consultants are able to differentiate themselves from both other agents and the hassles of self-serve travel search.
Syncing with TripCase, the user then receives these moments within their app to maintain a well-managed travel itinerary. This can happen in near real-time, making it so agents can support their clients during their trip without interruption.
"We wanted to create something that was able to add value for the customer after having similar problems scheduling events while on a major trip" said Marco Angeles, one of the winning team members. "The hackathon was a great learning experience."
What makes Moments a truly great prototype is that is addresses a customer segment working with a travel agent (often times, concerned with 'bleisure' travel) and then follows through on a robust itinerary management system that syncs personal preferences with a mobile solution. It addresses multiple needs in the process funnel and not only makes life easier for the traveler, but enables travel agents to actively suggest activities and events that may be of interest, given the makeup of their profile. Just brilliant.
Of course, Moments wasn't the only winner of the hackathon, as there were six other challenge winners. Each winner presented a unique solution that not only provided answers to common travel problems but also provided new ways to look at travel. After all, the way travelers make plans evolves as technology itself advances. The travel landscape is one of the most exciting places to be right now.
Check out the winners across the board. In addition to the grand prize, there were a series of side challenges, including ones geared towards the new Sabre Red Workspace, chatbots, VR/AR, and sponsored prizes from GIATA and DHISCO.
Best Use of VR: TraveGo
TraveGo is a Virtual Reality application showcases itinerary planning and integrated the TripCase API, then further augments using VR. Using the Unity engine (the same engine PokemonGo uses), this app is an excellent way to help a user experience the world around then before embarking on a trip in a new geographic location.
Chatbot Challenge Winner: Chat Planner
Chatbots are extremely popular, so it was no surprise to see a good percentage of the projects include chatbots. The winner of this challenge was Chat Planner, a chatbot engine that is native within messaging apps. It identifies travel conversations and then turns them into actions for the traveler. Out of all the chatbots created at the hackathon, we felt this one was the most well rounded and thought through.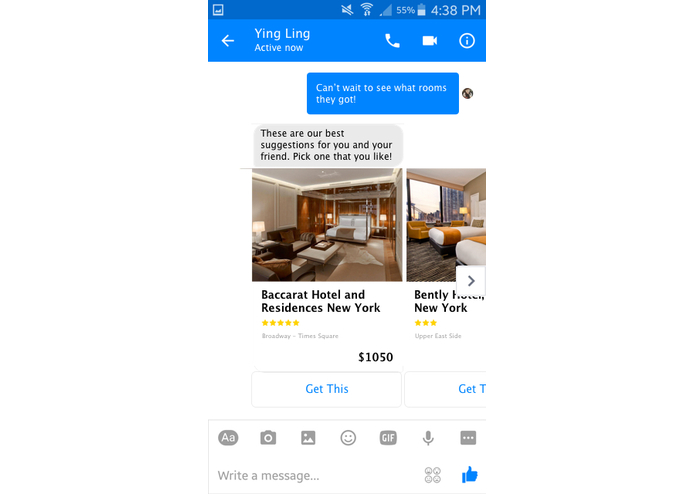 Best Use of GIATA APIs: Stranded Flight Solutions
This team from Europe and Asia won our love and admiration by making their own Destination Hack: Singapore shirts! However, it was Stranded Flight Solutions' use of the GIATA API that caught the attention of challenge judge and sponsor Andreas Posmeck, the CEO of GIATA. This prototype takes travel disruption management to a new level. It uses an automated communication flow that keeps passengers up to date on via personalized microsite. It  also enables info on additional vouchers and services they may be eligible for.
Best Widget Idea for the new Sabre Red Workspace's Decision Support Bar
This widget allows travel agents to obtain good insights to their customer base, analyze customer preferences and offer a more personalized travel itinerary. As a result, they can upsell other relevant products. The app had two components: the travel agent dashboard and a virtual chatbot assistant. Travelbrain utilized both Sabre Hotel and Flight APIs as well as the Facebook Messenger API.
Best Widget Idea for New Sabre Red Workspace Panels: CreditCardsOffer
CreditCardsOffer is a widget idea allows travel agents to easily access lists of credit card promotions from airlines, hotels or even car rentals. Utilizing the Sabre Red App SDK, it's a smart solution for both book travel and make the most of offer that the traveler might not previously be aware of.
Most Likely to Succeed: Flightzilla
This prize, sponsored by DHISCO, was a tough decision! We saw so many projects created with so much potential. In the end, the winner of this challenge ended up being Flightzilla, a chatbot that helps search for flights. It also enables the user to share flight recommendations with friends and family. Flightzilla is especially useful for anyone booking a group trip, as it not only eases the booking process but simplifies the chaos often associated with managing group travel.
There are clearly plenty of areas in travel ripe for innovation
As you can clearly see, there were many different approaches taken to a variety of travel solutions. What we saw at Destination Hack: Singapore proved just how there are still many new ways to approach travel.
Seeing such innovations and dedication to the cause in such a small window of time was nothing short of amazing. Many thank yous go to the winners and all of the other participants for showcasing just how exciting and robust of an industry travel is. We're happy to be leaders in this sphere and even happier to see so much amazing talent come to these events.
A special thank you also goes to other participants and speakers for the event, including Greg Schulze (Expedia), Toni Portmann (DHISCO), Andreas Posmeck (GIATA), Neil Han (Twilio) and of course the team members from HQ and Singapore who helped put together such a successful event. See you at next year's hackathon! Stay tuned for details sometime in 2017! In the meantime, check out this video below.
Hop over to DevPost to see the full hackathon project page or read more from the tech side on the DevStudios blog.