Innovation at Sabre is an iterative process that is informed by customer feedback. A current example of Sabre's collaborative approach to developing new solutions comes from the Sabre Studios team. Studios is developing a white label, travel agency-focused, AI-powered chatbot, (or, "bot"). The bot leverages various Sabre APIs, as well as Microsoft's Bot Framework and Cognitive Services, a set of tools that organizations can use to add intelligent and conversational features to applications.
Later this year, two Sabre-connected travel agencies – Dallas-based Travel Solutions International USA and San Francisco-based Casto Travel – will test a white-label version of the chatbot with select corporations and their employees. Travelers will access the bot via Facebook Messenger. The pilot test will inform Sabre's eventual decision to productize a bot solution.
For the pilot, the bot will address four service and support use cases, including changing an existing flight reservation, making ancillary purchases, requesting special meals and asking general trip-related questions. Longer-term, the bot's functionality could be expanded to address traveler needs across the travel lifecycle. Initially, the chatbot will divert to a live travel agent if it is unable to fulfill a request.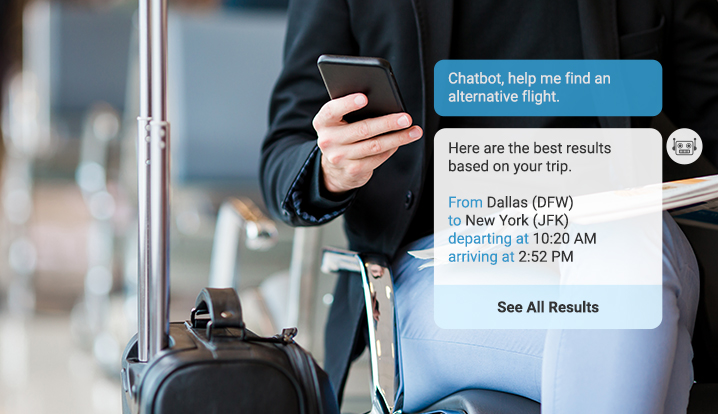 By supporting basic requests, bots can help to augment a travel agent's productivity. Agents are able to focus on more value-added, complex interactions with customers that require a personal touch and human ingenuity. Simpler tasks lend themselves to the automation that bots support. Travelers are also eager for self-service options to address these sorts of routine requests.
Messaging interfaces – both text and voice-based – are becoming increasingly popular communication channels. Asia has been at the forefront of the bot adoption curve: popular messaging app, WeChat, boasts over a billion users. In April, Facebook Messenger reported over 1.2 billion users, while Amazon's Alexa has also been fueling interest in voice-based interfaces.
While the pilot involves a white label solution for travel agencies, bots could have broad applications for many different types of stakeholders in the travel ecosystem.