Time is a precious commodity – whether you are on the company clock or wanting to relax and enjoy 'me' time.
No-one wants to spend more effort than necessary on finding that perfect holiday or conference hotel with the great free buffet – in an ideal world the process would be flipped and the suggestions for perfect accommodation would be presented to customers before they had barely begun to search.
The customer journey for travel is complex, especially for hotels, where emotion plays a big role alongside ticking off important factors including location, price and amenities. Customers used to check an estimated 22 sites for accommodation to see if they were getting a good deal but the rise of aggregators is reducing this number.
If travelers can spare themselves a huge internet trawl, why wouldn't they? Half of respondents in a Tripadvisor study agreed that hotel price-comparison sites save time and help find the right price for their chosen hotel.
However, the customer journey has become complex in another way, as travelers jump between screens for research and purchase – 94% of leisure travelers switch between devices as they plan or book a trip[1]. This presents a technical challenge as customers want to be recognized each time they re-engage with a TMC or agent without the need to repeat the authentication process.
When they begin thinking about a trip, travelers are very open to the choice of hotel; 82% of US leisure travelers have no preconceived accommodation provider at the start of their research[2]. By the time they are about to book travelers will probably have settled on the brand and location or will be searching with the narrow criteria [brand name] + [criteria].
The majority of bookings still take place on desktop but there is growing confidence in using mobile, with 31% of leisure travelers and 53% of business travelers saying they have booked via smartphone. IHG reports that during the past year mobile accounted for more than 50% of its traffic[3].
The use of smartphones is also leading to more last-minute bookings – 85% of non-branded hotel searches on smartphone using Google include 'today' or 'tonight'.
What does this all mean for the agent? By now, being optimized for mobile should be a no-brainer given that many business travelers, especially millennials, will be using their own devices to book. Once optimized, TMCs can then use data management technology to provide inspiring information to travelers relevant to the different stages in their planning and researching. For example, if a traveler has booked a room with a sea view previously, it's likely to be an important personal preference and this data should be surfaced.
Availability of rich media content, such as hotel or resort videos or photos, will be important in making effective recommendations. Our own Twitter poll shows photos rank high in the criteria of leisure travelers for choosing a hotel together with reviews, price and amenities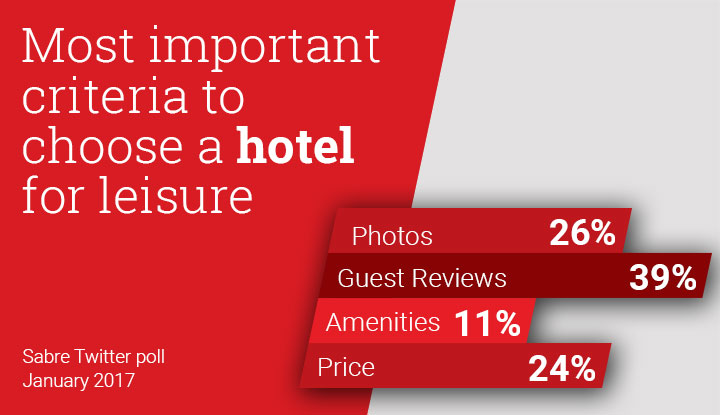 Business travelers evaluate the best recommendations with a different set of criteria, with the directed company travel policy carrying a lot of weight, as we see below.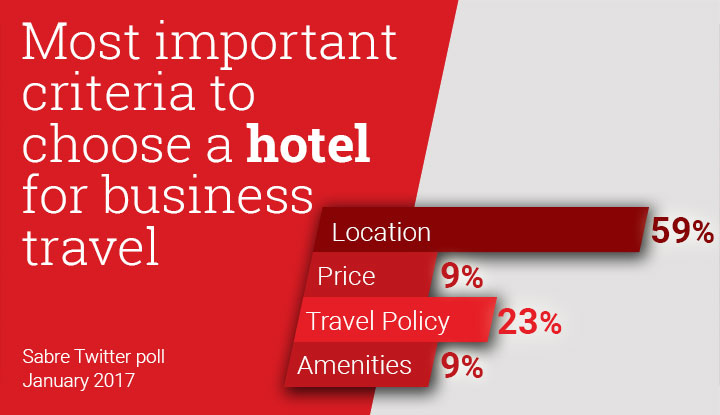 A TMC will differentiate itself by making the research and booking process a great experience and help the customer find the best choice. By doing this, a TMC earns the right to be involved in the traveler's trip right across the value chain. As we know, travelers become customers of many stakeholders during a trip, from the airport to the taxi to the hotel – but there is no reason a TMC cannot play a larger and more valuable role in the end to end experience with the right strategic technology partner.
Find out more about the content hotel travelers are looking for by listening to Sabre's latest webinar on booking trends.

---
[1] How Micro-Moments Are Reshaping the Travel Customer Journey: Google July 2016
[2] Google/Ipsos MediaCT 2015
[3] https://www.tnooz.com/article/ihg-results-earnings-2016/