Cracking the code to personalization is no easy task, but the payoff is substantial.
Sabre Airline Solutions® recently released a whitepaper highlighting the business challenges faced by airlines in the area of customer experience. Brand differentiation and personalized sales and service are becoming increasingly strategic areas for leading airlines due to their market share and profit potential. In the whitepaper, Sabre discusses the unique complexities in the industry, analyzes new findings about revenue potential, and discusses ideal solutions for these problems in the market place.
Carriers that are able to provide a fully personalized experience to their customers throughout the full extent of the traveler's journey will have successfully created a differentiated offering in a generic marketplace. This includes each phase of the traveler's journey. Facilitating a personalized dialogue with the traveler within the context of the journey requires seamlessly integrated technology that operates in near real time. Mobile is a convenient and effective avenue that can be used to facilitate that personalized dialogue.
"Third-party mobile apps are not optimal due to internal airline systems 'still speaking a different language,'" David Cush, president and chief executive officer of Virgin America, stated in a special report published by The Economist Intelligence Unit. However, a bigger challenge than system integration across the full journey is for the carrier to actually see the full journey. A 360-degree view of the customer creates a greater degree of intelligence that enables airlines to offer a unique, personalized experience based on the customer's past behaviors, interactions and stated preferences. These preferences and behaviors can then be used to predict, and ultimately influence, the customer's future buying behavior. The aggregation, analysis and real-time actioning of customer data is needed to create this personalization.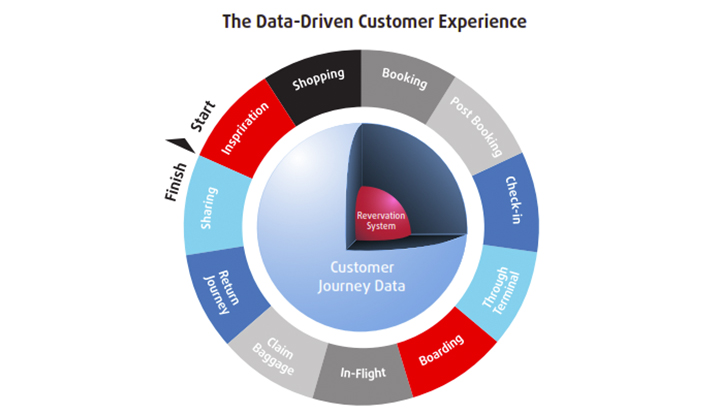 "The challenge is making that data come alive, so we get a better picture of the individual customer," Jeff Foland, United Airlines' senior vice president for Marketing, Strategy and Technology also told the Economist Intelligence Unit.
Roughly a terabyte of customer data is floating around at any given time within a large carrier's systems. The velocity, variety and volume are growing as airlines scale and consumer technology continues to grow and evolve. Structured data has been growing at a significant but predictable rate ever since reservations and check-in systems came online decades ago. Conversely, unstructured data, including campaign responses, Customer Relationship Management data, agent interactions, shopping analytics, buying behavior patterns and, of course, social media data, has grown exponentially in recent years. Even with the volume of data growing so significantly, the costs of storing and processing data in the industry have dropped. A lower cost barrier effectively gives the green light for airline leaders to begin aggregating and actioning their customer data.
With at least 20 disparate data sources within most airlines and some larger carriers housing 50 sources or more; a single, comprehensive view of the customer is a highly complex and abundance of talent and skill sets necessary to build a system that compiles all customer data points in a single system.
Relatedly, a customer experience program architected with disparate technology solutions require costly integration for setup and regular re-calibration over time to stay in sync.
The ideal solution to this complex business challenge is a seamless customer data environment that ties back to all systems involved in shopping, reservations, check-in and the many other steps of the journey. Seamless technology utilizing a central data hub within the airline's reservations system could aggregate these data-creating systems into a comprehensive view of the customer that can be used to execute business rules, making airline system integration a problem of the past and personalization of the customer experience an attainable reality.
To read the rest of the story, download the full whitepaper!