There's no doubt that SXSW continues to thrive as one of the world's most prominent events. The festival's multi-disciplinary approach lends well to the blended reality of business today, with brands, professionals and attendees from many industries descending on Austin each March.
2016 marked Southby's 30th birthday, a significant milestone for any business, let alone a festival series. This year, more brands than ever competed for the limited attention of attendees at SXSW Interactive. Sabre's Lego A380 was in the thick of it, offering a perfect perch to observe how brands approached cutting through the noise. The most successful campaigns involved emotion, delight and/or humor. Here are 4 of the most memorable marketing and brand activations at #SXSWi2016.
The Bumbys!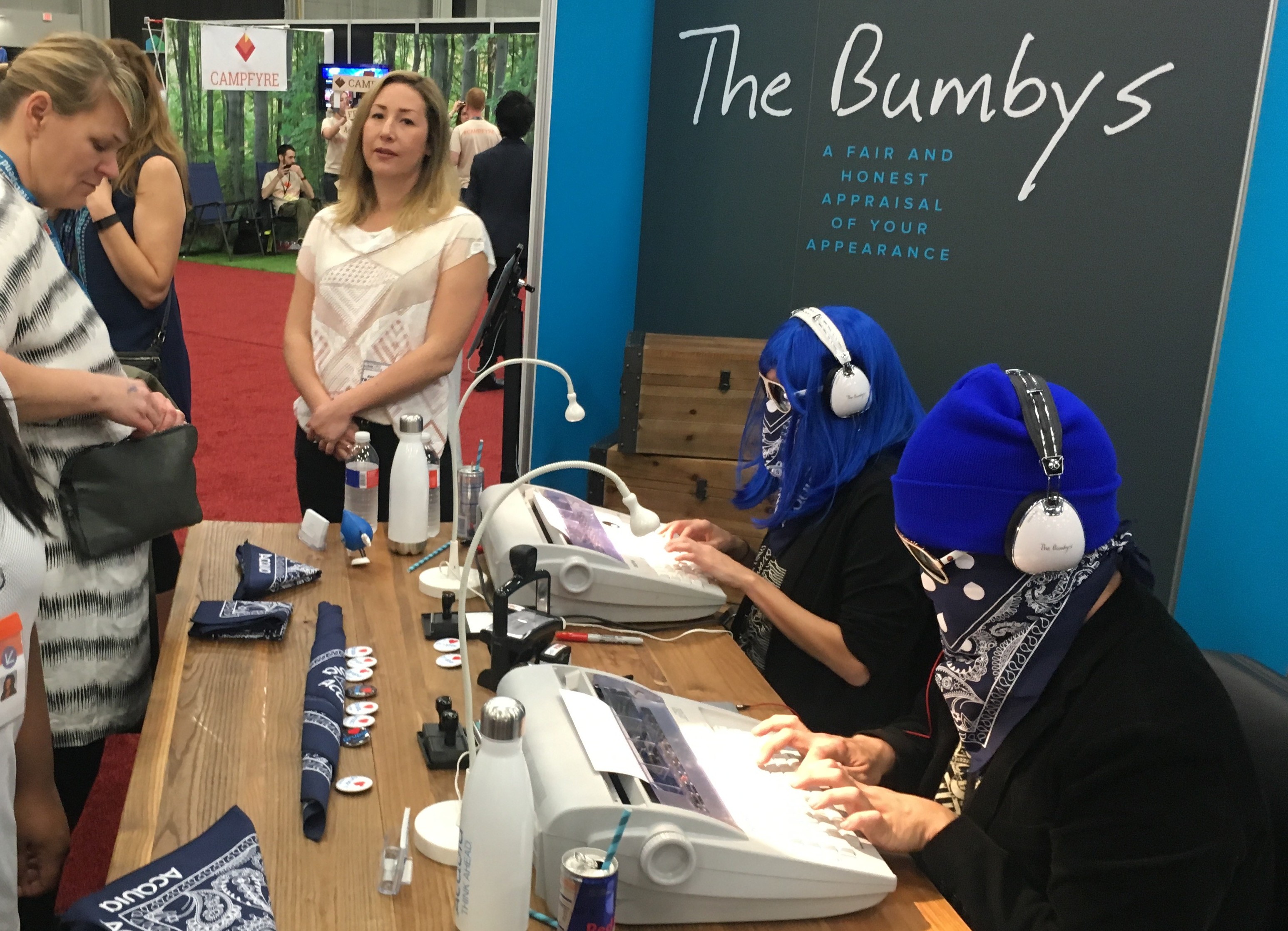 We'd never heard of the Bumbys before this event, but given their long client list we might be one of the few. Brought by the Acquia Platform, the Bumbys offered a "fair and honest appraisal of appearance" to hundreds of attendees. The line was always long, giving the Acquia team plenty of time to chat up prospects as they waited for the appraisal.
Once in front of a Bumby – masked in sunglasses, blue handkercheifs and headphones – the appraisal is handily typed out on an electric typewriter. A quick stamp, and then the small slip of paper is handed over. Casual observance – and personal experience – says that the Bumbys are a perceptive bunch, focusing on the good and interesting and not at all on negative takedowns.
The emotional experience of having someone judge you is unique, and when that judgement is spot-on, it's almost magical. Having a tangible, handmade good that you want to bring home to frame is equally powerful, making for quite the conversation starter back home. It's memorable, surprising, emotional and fun – characteristics of an ideal activation.
MophieRescue
Need to be rescued at #SXSW? Tweet us a screenshot of your dying device, use #mophieRescue and tell us your location pic.twitter.com/vEVHjiLMjr

— mophie (@mophie) March 12, 2016
Street teams proliferate at SXSW, so it's not always easy to build buzz. There has to be a creative "must see" element to the experience. It's this element that makes people stop to snap a photo, which then inevitably ends up on social media to build that all-important buzz loop.
Mophie offered up a killer combination with #MophieRescue: dogs, vintage-style motorcycles, and battery charging. The company worked with Indian Motorcycles and the Saint Bernard Rescue Foundation to combine three things SXSW attendees love, which built brand equity while also supporting a worthy cause. And by leaning on a cross-partnership, Mophie was able to keep the costs down while increasing visual excitement. That's a brand activation virtuous cycle – quite literally!
3M's Big Picture
Following the trend of "marketing made good," 3M's Big Picture experience just off the Convention Center offered a metaphorical glimpse into what an under-resourced world would be like in 2050 with 9 billion people. This is a clever continuation of a 2015 activation, using a bric-a-brac assemlage to encourage consideration of the planet's future.
While the walk-through experience was engaging, the true genius is the "gift card that doesn't work at any store in town." 3M committed to donating $40,000 – and left the choice of charity up to each visitor. Roving staff personally wrote visitor names on $20 gift cards, which could then be redeemed at Global Giving. By reinforcing the message of planetary care – and empowering the visitor to contribute to that care – the brand created a truly memorable intellectual and emotional resonance.
Ditty.co
Beyond hitting the emotions or pulling on the heart, humor is a clear winner when it comes to brand activations. One guerrilla marketing campaign received rave reviews – and won over lots of positive press for an emerging app: Ditty.co. The posters had varying levels of humor: there was Amy Schumer with a large wine glass ("It's 5 o'clock everywhere") to Bill Cosby ("Let's get drinks") to Barack Obama ("Deal with it"). The posters were everywhere – and in a true testament to their efficacy, were barely covered up by other stickers by the end of the festival. The humor was just too good!
Ditty is also a case study for how clever marketing can change a trajectory: the app was launched last March, and even at a year old, the app was able to make waves amidst the chaos of SXSW.
What can your brand do to elevate its next marketing promotion to capture the hearts and minds of those travelers just waiting for the next inspiration?