Smartphone usage continues to grow at an astounding rate as fast mobile Internet access transforms nearly all facets of life. The boundaries on when, where or how we access information or services no longer stand as a limitation.
Just how prevalent have these devices become? Today, roughly three-quarters of Americans (or 77%) now own a smartphone, according to a Pew Research Center study conducted November 2016. Astonishingly, smartphone adoption has more than doubled since the Center began surveying this topic back in 2011. The study also shows that smartphones are nearly ubiquitous among younger adults –– 18- to 29-year-olds –– with 92% owning one. What's more, Strategy Analytics latest 2017 report from Wireless Smartphone Strategies shows a 44% smartphone penetration rate worldwide, reporting the penetration rate will increase globally to 59% by 2022.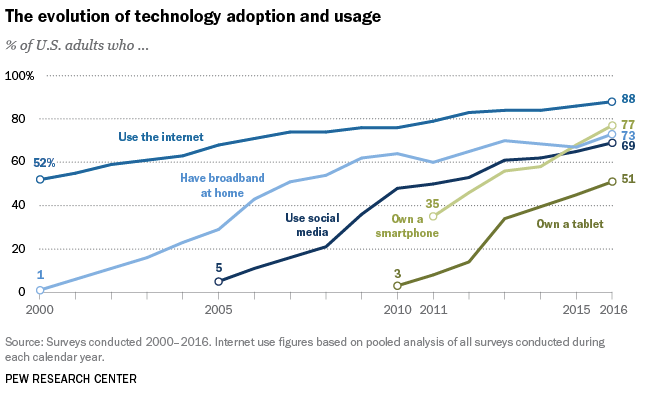 Perhaps even more foretelling, Flurry Analytics 2016 study shows U.S. consumers alone spend 4 hours, 15 minutes on their smartphones every day. What's more, today's mobile landscape is dominated by multipurpose apps. According to comScore's Mobile Hierarchy Report (Jan. 2017), apps make up 87% of total smartphone minutes with users spending an average of 73.8 hours a month on apps.
Given the dramatic rise of smartphones, it's not surprising that people rely on their mobile devices for more and more of their daily interactions, whether at home, at work and on the road. This is especially true when it comes to business travel. Today's business traveler wants the freedom, connectivity, increased flexibility and familiarity smartphones provide. Smartphones and apps can quickly hail an Uber, serve as an airline boarding pass, book your dinner reservation or even help you find a last-minute hotel room when travel plans change.
In fact, Sabre and GBTA's joint Travel Manager 2020 study revealed that 80% of travel managers consider having a mobile strategy a top priority in increasing adoption and in-policy compliance. Mobile capabilities such as booking, itinerary management, payment and data capture have become must-have tools for business travelers on the go. As more Millennials move into the work force and the business traveler population grows younger, mobile technology will only play an even larger role going forward.
What does this mean for the business travel landscape? It means things have changed and will continue to change, and it's in companies' and travel managers' best interest to adapt accordingly.
Secret to Success: Answering What Travelers' Want
The last thing many business travelers want is to rely entirely on a corporate travel manager to book a flight and hotel for business meeting next week, especially when plans can change at a moment's notice. Not to mention, the frustration and anxiety it often causes if anything changes after normal business hours. They also don't want to have to complete and manage a bunch of printed forms and stapled receipts that tallies out-of-pocket travel expenses. Instead, business travelers demand the convenience and self-service capabilities their smartphones deliver –– seeking out the same convenience, seamless experience and on-the-go interactivity in their company travel solutions.
Here are a few key things to consider in selecting a modern, integrated travel and expense solution for today's highly mobile business traveler.
User-Friendly Mobile Platform Drives Higher Adoption
Companies can strongly influence adoption of their preferred booking and expense platforms by ensuring that they enable mobile interactivity and ease of use. In fact, 78% of business travelers in the U.S. prefer to manage their journeys themselves through self-service technology, based on the 2015 GBTA Digital Traveler report. The newly designed GetThere is a responsive HTML5 design which means that it delivers the same intuitive experience on any device. It even integrates the traveler-centric TripCase app to empower travelers to book, track itineraries, cancel or change their own travel reservations on the go and view options that are in-compliance with company policies. All of which explains our industry-leading 81% adoption rate.
Making Travel and Expense a Snap to Master
Every business trip is a whirlwind full of meetings, dinners, car rentals and shuttles. The process of managing a bunch of receipts and filing expenses is often a daunting task. Now traveling executives can take a snapshot of the receipt with their smartphones and upload it automatically to expenses. Thanks to Sabre, all flights, lodging, transportation and meal expenses are already categorized and uploaded into the expense system, ready for review and submitted for quick reimbursement. Now, when your travelers return to the office, there's no additional work to be done. Overall, our new, mobile traveler experience with seamless global expense management from pre-trip to expense reporting can provide a 44% increase in policy compliance.
Greater Security and Spending Transparency
Capture data along with event and meeting expenses as they occur, not after they've gone over budget. Even better, have the ability to pre-approve expenses before scheduled events or business trips. Sabre's Virtual Payments offers a secure payment solution that provides a unique, on-demand virtual card number for a specific trip. It greatly reduces the risk of fraud and eliminates the hassle of cancelling and reactivating credit cards for business travelers. Additionally, virtual payments can help control costs by establishing a pre-approved travel amount for individual business trips.
Some Check In's Mean More Than Social Status
When ordinary business travel becomes less than ordinary and more than expenses need to be accounted for, locating and checking in with traveling employees during times of crisis is critical. Travel risk management is becoming an increasingly important element to corporate travel programs, and Sabre's SafePoint solution makes it quick and easy. It is integrated into the broader travel program to more accurately find and communicate with travelers impacted by an event. SafePoint even proactively notifies travelers that may be impacted and requests that they "check in" with their status. It reduces response time between the event and when you hear back from travelers, with a faster, smarter and more accurate approach to travel risk management.
Proven System Reliability for Higher Productivity
Every day, consumers want to be able access information and interact with products and services at all hours, no matter where they are. For business travelers, it's an absolute necessity. After all, we live in an instant-access, always-connected world. Sabre boasts system uptime of 99.98%. We have a proven track record, processing 85,000 transactions per second and 1.4 billion API request daily to serve more than 1 billion travelers each year.
Today's savvy business traveler wants the convenience of self-service solutions that work around the clock, all right in the palm of their hand. Learn how Sabre is helping travelers make smarter in-policy booking decisions by offering a simple, user-friendly solution fully optimized for the mobile road-warrior.