This is the second segment in our Millennial Mindsets series from the Sabre New Graduate Leadership Program (NGLP). To understand the needs of this group we conducted the Millennial Travel Trends 2016 survey of 400 millennial North Americans. Here we explore our findings in a series inspired by Google's Five Stages of Travel — Dreaming, Planning, Booking, Experiencing, and Sharing.
Planning: Down the destination funnel
The millennial generation will make up 50% of the workforce by 2020. Understanding the evolving needs of this group is the main objective of our Millennial Travel Trends 2016 survey of 400 millennial North Americans. Using Google's popular framework for travel, we break down our results across the five stages of travel: Dreaming, Planning, Booking, Experiencing and Sharing.
In the first article in this series, we discussed the Dreaming stage. That's the time of the "endless journey:" the traveler is looking for inspiration and constantly imagining what a trip could be like.
But once a location/region is selected, a new funnel appears. This is the destination funnel. That's when the traveler starts sifting in-destination options and begins to mold the itinerary to their needs and expectations.
With millennials, this is even more complicated
Our generation is often described as an elusive, contradictory bunch, but in reality, everything you need to know about a millennial is on their Facebook page — or Instagram, or Pinterest, or Snapchat, or any of the other countless social media sites we use to stay connected.
We are the generation raised by social networks and the technology that makes them possible, and such constant connectivity makes us crave experiences more than material goods. The research underscores just how much millennials are willing to spend cash on experiences rather than things:
78% of millennials would rather spend money on an experience, such as a music festival or travel, rather than on clothes or technology.

Share
We are inundated daily with posts of our friends' exciting travel experiences and we get "FOMO" — or "fear of missing out" — so we want to go have the same cool experience, or one even more exciting, which is changing the way we plan travel.
Converting FOMO into GOMO
But can you really buy the perfect travel experience? Plan for that flawless Instagram picture? Can you put a price tag on a once-in-a-lifetime travel memory? And most importantly, can you convert that FOMO-inducing content into actual travel? Ultimately, all travel suppliers want travelers to go more. Or the latest travel buzzword GOMO! Don't miss out, just go!
Since 1987, US consumer spending on experiences has increased 70%. And millennials don't just want a perfect travel experience, but an immersive travel experience.
Our generation doesn't want to follow the tour guide with the stick and take the mainstream tourist path. We want the experience with bragging rights, the one that tells a story – for example, a small group food and wine tour run by a local culinary student, or a tuk tuk ride through the winding alleyways of old Bangkok.
Millennials want to keep their itineraries flexible. We know in general what we want to do and see when we travel, but we want wiggle room to venture off the beaten path and discover a whole new side to our chosen destination.
For example, this past April, I took a trip to China to visit a friend working abroad. We took a weekend trip to Beijing. Since we only had three days to explore the third largest city in the world, we chose a hotel along a main public transport line.
Our priority for this stay was accessibility. And that preference is shared: 1 in 5 millennials chooses location over all other amenities. We knew we wanted to see the Great Wall, but besides that we relied on Tripadvisor forum posts to give us advice on exploring the city. Thanks to these tips, we ended up trying out an incredible Peking duck restaurant absent from all of our guidebooks.
Why user generated content still matters
Millennial travelers trust word-of-mouth recommendations. Especially those from friends and social networks. Above all other sources, these word-of-mouth moments matter most when it comes to seeking a unique travel experience.
Thanks to the Internet, we are able to compare sources and reviews at the click of a button to make an informed purchasing decision. In the social network age, word-of-mouth recommendations are not only the most trusted option, but the easiest as well. This has given rise to an entire online ecosystem of user-generated content.
And while it seems counterintuitive to trust strangers on the Internet, for millennials, this lack of real-life connection doesn't faze us.
38% of millennials rely on peer review sites as a part of their travel planning strategy, compared to only 20% of those over 35.

Share
Because these reviewers post on collaborative platforms like Yelp and Tripadvisor, we're conditioned to trust in their opinions on everything from restaurant suggestions to the best travel pillow. Though of course, some reviews should be taken with a healthy dose of skepticism!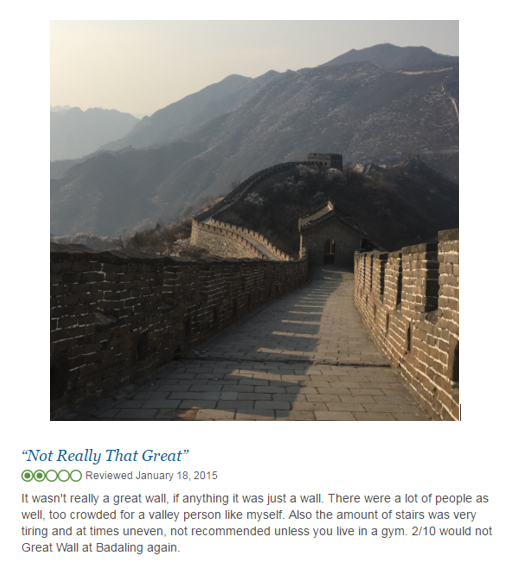 Planning with the help of a consultant
Industry gossip will tell you the millennials would rather text than talk, thus making the role of the travel agent obsolete.
However, though we're equipped to thrive independently, we don't necessarily aim for it. What we seek as travel consumers is empowerment. While we listen to others' advice to make decisions, we ultimately want the insight to craft our own perfect travel experiences.
And this trend is only rising, with millennial usage of travel agent sitting at a 6-year high in the latest Portrait of the American Traveler.
Above all, we want to be informed, confident consumers — so we are actually more willing to turn to a travel agent for their expertise. In fact, millennials are the only age bracket increasing their use of travel agents — 30 percent claim to have used one in the past year. And 45 percent reporting they are likely to recommend a travel agent to a friend or family member. When asked why specifically a millennial would hire a travel agent, respondents mentioned an agent's knowledge of a destination and suppliers, their ability to make travel more hassle-free, and that ultimately experience and expertise allow an agent to book a better a trip than a self-planner.

Next week, we will explore the third stage of traveling: Booking. In the meantime, read about how millennials engage with the first phase of travel: Dreaming.
TL;DR
• Millennials would rather spend money on experiences than goods
• Millennials prefer an immersive experience with a good story more than a typical tourist route
• Millennials like to keep their schedules flexible to fit in word-of-mouth recommendations from locals or peers (which includes reviews from user-generated content)
• Millennials are more willing to turn to travel agents for their expertise