This is the final segment in our Millennial Mindsets series from the Sabre New Graduate Leadership Program (NGLP). To understand the needs of this group we conducted the Millennial Travel Trends 2016 survey of 400 millennial North Americans. Here we explore our findings in a series inspired by Google's Five Stages of Travel — Dreaming, Planning, Booking, Experiencing, and Sharing.
Inspiring the share
Sharing is the creation of the inspiration that guides the millennial traveler's decisions. This form of first-person storytelling provides a brief glimpse of what a travel experience could be, and it puts the viewer in that mindset of imagining themselves there. It also serves as the catalyst that simultaneously kicks off and completes the five stages of travel the millennial mindsets series is structured around.
With this concept in mind, we see sharing as a two-way street. It's the beginning and the end. Moments are shared by travelers to encourage, inform, or warn their peers.
Brands share to encourage, inspire, and inform potential clients/consumers. In order to capture more of the millennial market, your brand must be present at both ends of the spectrum.
97% of millennials in our survey share on at least one social platform while traveling.

Share
Why do we share?
There are many reasons why one would be motivated to share travel content, such as:
Document experiences
Network with others
Applaud or critique products and services
Educate, inform or inspire others
Ninety percent of millennials stated they consult mobile applications and websites with user-generated content for travel advice for trip location, dining recommendations, and random tips. No travel site, however, can come close to a personal recommendation from a peer or someone we admire.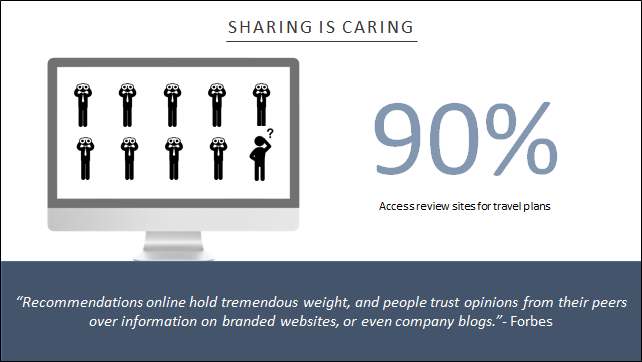 Millennials more than any other generation feel compelled to share their experiences: both good and bad. Review sites and social media have made it easier than ever to spread the word about a fantastic experience on a trip or with a product or service. They also make it easier to warn friends and others about the tragedies of dealing with a less than adequate brand.
Online recommendations hold tremendous weight with millennials and we look to this non-traditional, user-generated content to help us most effectively spend our time and money.
How sharing plays into word-of-mouth
Seventy-six percent of millennials stated that friend's recommendations are the most important factor when deicing where to travel and what companies to partner with to do so.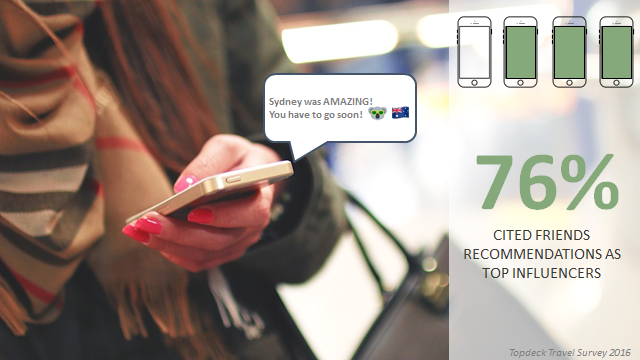 So what does all of this mean for you as a brand? How can you get involved?
A relatively inexpensive way to plug your company into the millennial sharing space is active social media engagement. A solid social media plan can change a business's public perception, increase visibility, and allow you engage your customers on a level playing field.
Take Airbnb for example: #treehousetuesday is a weekly post that promotes the brand's unique product offerings with content that is visually appealing to users who share and repost the content via their social media networks.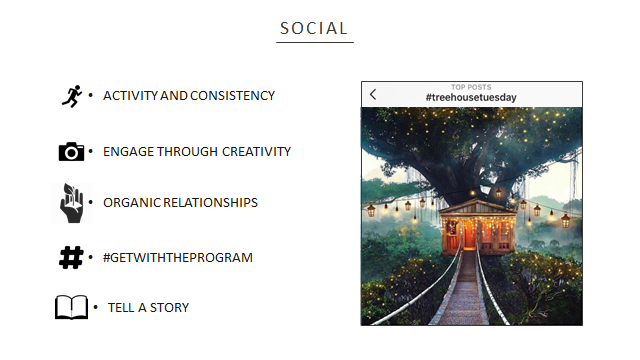 The brand takes care to ensure that while the posts provide a link to its property listing, its main focus is to promote content, not advertising. This is an important factor to consider when engaging millennials on social media.
Social Influencers are another way to quickly grow your brand awareness and get in front of more millennials. We view these non-celebrity bloggers, YouTube personalities, and Instagrammers as peers, and value their opinions of products and services. Travel brands have looked to these individuals as a way to quickly attract younger travelers in a way that feels authentic to them
Expedia partnered with blogger Budgettraveller.org for "48 Hours In Madrid With € 139" – a step by step guide on how to enjoy a weekend in the Spanish city on a budget.
By working with blogger Kash Bhattacharya, Expedia was able to reach his following of over 20,000 users across his social media channels in an authentic way resonated with users looking to recreate the experience.
For those interested in following in Kash's footsteps, Expedia was there at the end of Kash's Journey, and the beginning of theirs.
Plugging your brand into the millennial social sharing sphere provides opportunities for you to interact with travelers on their terms, as well as be top of mind for future journeys. By engaging appropriately within these sharing spaces, your travel brand can be identified as a critical "must-do" component of those journeys when they are shared with others.