This is the third segment in our Millennial Mindsets series from the Sabre New Graduate Leadership Program (NGLP). To understand the needs of this group we conducted the Millennial Travel Trends 2016 survey of 400 millennial North Americans. Here we explore our findings in a series inspired by Google's Five Stages of Travel — Dreaming, Planning, Booking, Experiencing, and Sharing. Read the first article here.
The rising popularity of travel consultants
Once you've been inspired to travel, have a plan for your trip and a rough idea of your budget, it's time to book! The number of travelers under the age of 35 who prefer to book their vacations through a travel agent increased 50% between 2014 and 2015.
 50% more travelers under 35 booked vacations through travel consultants between 2014 and 2015 says @MMGYGlobal #research

Share
This trend alone represents a huge opportunity for agencies to better capture the millennial market from both a corporate and leisure perspective.
Bleisure this way!
From a corporate standpoint, working millennials are very interested in "bleisure," aka mixing business and leisure travel.
A recent survey revealed that 53% of millennial business travelers have added vacation days to a work trip before. Travelers say that by adding elements of leisure to their business trip they felt more relaxed, recovered from jetlag faster and gained a better understanding of the local culture.
I know that after a long week of meetings in Toronto for a consulting engagement, I jumped at the opportunity to unwind over the weekend and visit Niagara Falls. When choosing a hotel for a work-related trip, millennials may prioritize location and transportation options over other amenities.This creates the opportunity to explore more of the destination.
Price is the single most important element that influences a millennial to finally take out that credit card and buy a travel service. In fact, half of millennials are self-proclaimed travel hackers, meaning we know the best methods to get deals.
But just because we're travel hackers doesn't mean we don't spend money on travel. In fact, it's quite the opposite! Millennial buying power is roughly $200 billion. Plus we're expected to spend incrementally more on travel than any other age group during the next 12 months!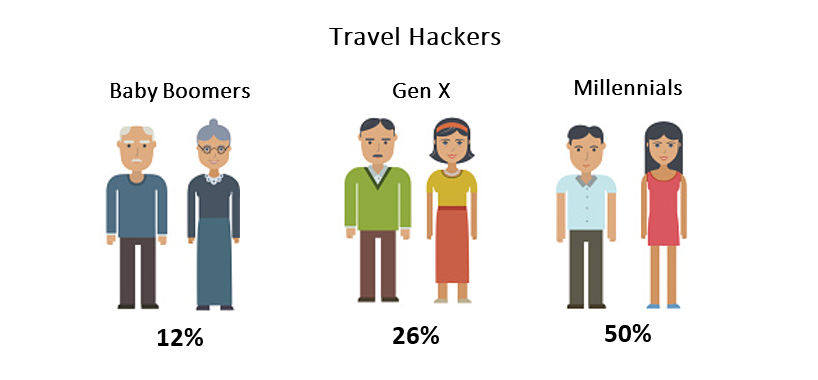 Targeting the 'selective splurge'
In terms of what we think is important to buy while traveling, there is somewhat of a hierarchy. When I backpacked around Latin America with my friend, we exclusively booked the cheapest available flights, traveled frequently by bus, and slept in dorm-style hostels.
But…
we also splurged without hesitation on tickets for the USA vs. Belgium World Cup quarterfinal in Brazil. Not to mention winery tours in Argentina, a 4-day Jeep excursion across the Bolivian desert…well, you get the picture. We love experiences!
This high (and sometimes impulsive) spending on certain components of a trip and saving on others may seem illogical, but to a millennial it makes perfect sense.
So how can your agency capitalize on our "selective splurging"?
Become a destination expert for a specific region, country, or city. Over half of millennials value travel agent service because of insider tips on a destination.
Offer non-core travel products like city tours, event tickets or boat rentals to complete your traveler's vision for their end-to-end trip. 83% of millennials place a premium on personalization, indicating the value of a truly customized itinerary.
Generate interest in your agency by leveraging photos, videos and social media posts – rich visual content can lead to a better look-to-book ratio.
Besides price, convenience and customer service are key. We want either an expert who can help us immediately or the ability to self-serve our needs via a desktop or mobile device.
Mobile: the true payment gateway
By 2017, about one-quarter of online bookings in the U.S. and Europe and over one-third in Asia Pacific will be transacted via a mobile device.
And millennials are the age group with the highest mobile usage – 97% use a mobile platform to consume digital content. A recent study even found that 1 in 5 millennials are mobile-only consumers who don't use a desktop device at all!
Lola is a great example of a company that's introduced an experience that allows users to book travel of all kinds in a one-to-one app-based interaction. The startup's live agents process requests in real time as customers explain what they want by typing the details into their mobile screens.
Another example of a disruptive travel service is Hopper — a mobile-only app that leverages rich booking data to alert travelers when the best airfare is available. I simply enter my desired travel dates and a destination, select "Watch This Trip," then Hopper will notify me via a push notification once the price drops to the point where they're confident it's the best time to buy.
The future of booking travel lies in finding a happy medium between human touch and technology. This presents a unique opportunity for agencies to design forward-thinking solutions to service the next-generation traveler.

Next week, we will explore the third stage of traveling: Experiencing. in the meantime, read about how millennials engage with the first phase of travel: Dreaming.