Retailing has been a differentiator for nearly every company that does it right. But hotel retailing can seem challenging, especially when it comes to the new age traveler who values instant service and convenience. Fortunately for hoteliers, the travel industry is loaded with valuable data to make the millennial traveler experience savvier than ever.
Hotel chains are going to great lengths to woo the millennial traveler. Beyond the trendy décor, 24-hour cafes, digital room keys and full service bars—there's a way to reach this digitally conscious demographic before they even arrive.
Due to this generation's wanderlust, the travel industry's interest in millenials is a no-brainer. A 2013 Expedia report finds that people under age 30 travel 4.7 times per year on business versus 3.6 times per year for 30 to 45-year-olds and 4.2 times per year for 46-to-65 year-olds. The same report found that millennials take 4.2 leisure trips a year, more than those age 31-to-35 (2.9 trips) and those 46-to-65 (3.2 trips).
In pursuit of this key generation, a hotelier's most valuable asset is in the data. An infographic featured in the recent Hospitality Solutions report on the Future of Hotel Booking takes us through the traveler scenario of Jessica, an aspiring actress headed to New York for what could become her big break on Broadway.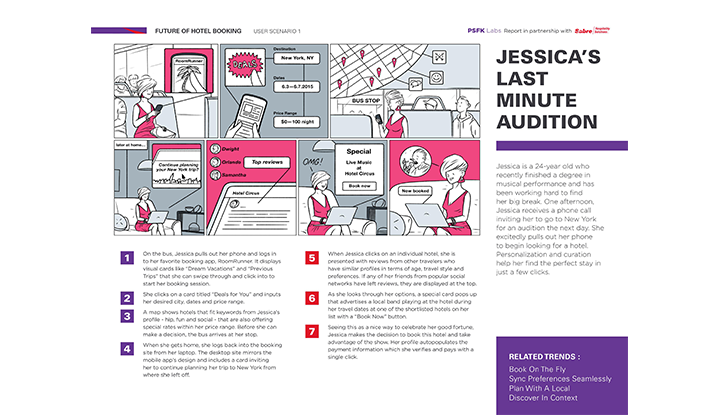 The infographic shows us Jessica's personalized booking journey as she uses her mobile devices to discover, plan and book her stay. Hotels can utilize various retailing tools to create a meaningful shopping and booking experience for travelers like Jessica—which in turn creates satisfied and loyal customers.
View the infographic to see four trends hotels can use to make personal connections with millennial travelers.
Book On The Fly – Offer limited-time deals or reduced rates by using known traveler preferences.
Sync Preferences Seamlessly – The ability for potential guests to move from one device to another and pick up where they left off during the browsing or purchasing process.
Plan With A Local – Use social networking applications to help travelers create local connections and find insider tips during the planning stage.
Discover In Context – Provide key information to customers at critical moments to personalize the path to discovery and purchase.
Jessica represents the 2.5 billion constantly connected millennials, a key demographic hotels should keep in mind when determining how to make connections with potential guests. Successful hoteliers build lasting relationships with their guests by connecting with them at all points along their journey—from discovery and booking to check-out and beyond.
By using data, past interactions and customer preferences, hotels have an opportunity to make offers at key moments in a traveler's booking journey. This type of engagement meets the connected traveler's growing demand for instant service and personalization—creating a new generation of loyal customers for your hotel.
You can find more hotel retailing techniques in our new report, Future of Hotel Booking: A Guide to Hotel Retailing.