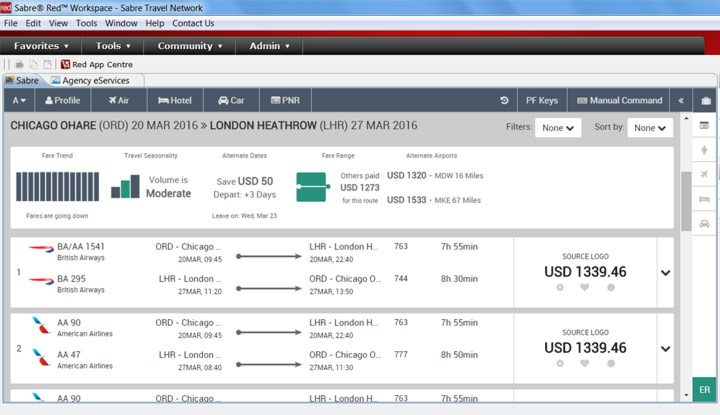 Sabre Red Workspace is a flexible user interface platform for travel agents to access the Sabre reservations system (including access to 3rd party apps written by Sabre authorized developers). The new Sabre Red Workspace is a significant step into the future for Sabre and our Partners. The Workspace is a robust, modular platform designed to enable continuous innovation providing stability, speed, and performance.  This new product simplifies travel complexity by providing decision support tools and an easy to use interface.
The new Workspace introduces a Decision Support Bar, Panels, and Widgets; all designed to quickly provide insights to the travel agent and to efficiently advance the workflow.
Now what's in that for you?
You are the creators. We've integrated components to unleash your creativity. Your widgets will be in the workflow of hundreds of thousands of agents.
The Decision Support Bar contains integrated widgets that provide deeper insight into travel options such as fare trends, alternate airports, alternate travel dates, and travel seasonality. We'll bring the tools, you bring the creativity.

Special Panels feature configurable and customizable widgets that advance the workflow by providing additional information and travel options, such as Weather, Branded Fares, and graphical Seat Maps to simplify the booking process.

How to use the concept?
The new Workspace SDK and library of APIs provide developers with opportunities to create additional widgets that are integrated directly into the Workspace via the Decision Support Bar and Panels.  These widgets are going to have the highest visibility with travel agents and are expected to provide additional insights/functions during the booking process.
We're looking to our development community to expand our offering of widgets and advance the functionality and value of the new Sabre Red Workspace!
Can't wait to get brewing?
Explore Sabre's API portfolio and let us know about your Widget ideas.
The complete list of SOAP/REST APIs and their corresponding documentation
Red Apps SDK Documentation (You'll need your credentials!)
Give your feedback
Read more on Insights