IATA's New Distribution Capability (NDC) opens new possibilities for airline retailing and has the potential to deliver value to key players across the travel ecosystem. Alone, however, it is only a standard and doesn't drive innovation.
At Sabre, we are uniquely positioned to invest beyond the NDC standards in a traveler-centric, end-to-end retailing ecosystem. Our investments are powered by vast amounts of rich data and ensure smart offers and seamless execution. We consider the full value chain to ensure a win-win-win for all constituents including airline, agencies and travelers.
Our Beyond NDC strategy is designed to help you go beyond CRM, beyond the seat, beyond ticketing, beyond connectivity and beyond interfaces.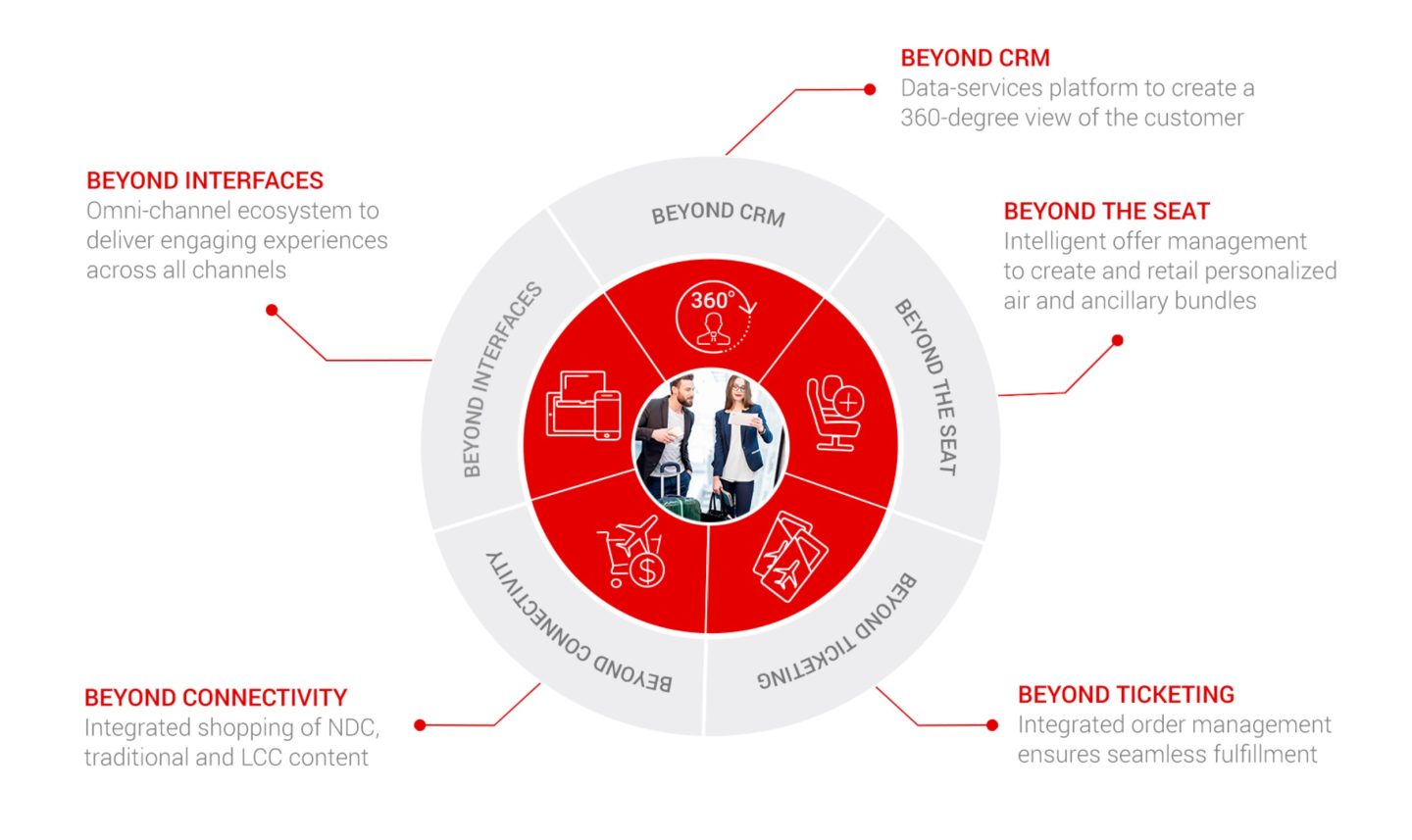 NDC Beyond CRM
Before the pandemic disruption, the travel industry had reached an all-time high in complexity. In just a few short years, the number of options–including fares, ancillaries and brands–for a New York to London trip went from 5 billion per day to approximately 63 billion.
As we think about NDC and airline retailing, the most important thing is to do this at scale. At Sabre, our current shopping times are under two seconds to produce all those results and combine them into the most favorable and interesting offer for travelers.
Producing these favorable results starts with having a 360-degree view of customers, beyond the information found in their loyalty profile. Sabre leverages shopping (or marketplace) data, for instance, as a key data source from the GDS that can be used to refine future offers by providing additional insight into product demand, competitive offers and options displayed.
By investing in a real-time, data-integration platform, we are bringing together market, shopping and operational data from across an airline's enterprise and creating opportunities for designing tailored customer experiences.
NDC Beyond the Seat
With foundational data solutions in place, airlines can invest in an intelligent offer-management system. In our role as an IT partner to airlines, this is a key component of effective retailing.
Decision support is a lynchpin to enabling airlines to create smart offers. At its core, an airline's product offering comprises availability, price and retailing of ancillaries. The "brains" must define and control these offers by persona. The challenging part is identifying when the persona changes – it's the same person, but the need is different. This is when decision science comes into play because the technology needs to understand a traveler's current persona. For a business traveler, a top priority is getting to her destination in the shortest amount of time while still staying within corporate policy. When traveling with family, the end goal is different. The same person now values a cheaper fare with ancillaries for her children.
From there, the product catalog creates a "menu" of products that can be combined into bundled offers. These offers are created and distributed through a next-generation shopping engine designed to support the exponential growth in shopping volumes and deliver live, ultra-fast responses. It also enables fares to be accurately distributed across all channels.
From there, the retail platform executes on dynamic bundles, optimizes pricing by enabling mark-up/mark-down rules and delivers flight promotions to the customer. The offer store validates and controls where offers are sent, saving channel performance and all contents of the offer, including price.
By bringing these components together, we are delivering an offer-management platform that delivers new, engaging shopping experiences that travelers haven't seen before.
NDC Beyond Ticketing
An offer is only as good as the experience you deliver. Imagine purchasing a recommended product on Amazon, expecting to receive it in two days, only to find out the package was lost in the mail. What if you purchased a premium-seat for your honeymoon but couldn't make your connection after a weather disruption delayed your flight? In both cases, the offerings were tailored, but the delivery fell short.
The airline order-management system is responsible for maintaining the integrity of the offer through the customer journey, from order creation to delivery. Order management starts with order creation, which matches the exact contents of the offer and creates an associated legacy PNR to support traditional, existing workflows. Any changes are synchronized between the seller and the airline, as well as the order-management system.
By providing a true end-to-end solution for intelligent retailing, we help reduce integration complexity across multiple providers and ensure order servicing during irregular operations.
Any retailing strategy must take the retailing aspect and integrate that across distribution and fulfillment. Having airline operations system integration is critical. This is the only way you know the promise of the offer is delivered to the traveler.

Kathy Morgan
VP Channel Delivery
Sabre Travel Solutions
NDC Beyond Connectivity
Not all airlines will fully move to the future state of NDC offers and orders. Even airlines that move to NDC-standard offers will continue to use the traditional process for some parts of their operation, such as interline fare construction. In some cases, where an airline has NDC-standard offerings in its distribution mix for a given itinerary, traditional content for that same itinerary will commonly be supported in the foreseeable future. For Sabre, going beyond NDC means our customers must prosper in this hybrid world.
Rich NDC content only delivers value to the ecosystem if all the shopping data (NDC, traditional and low-cost carrier APIs) is properly aggregated, indexed, analyzed and delivered. This means the role of the GDS has never been more valuable to the travel ecosystem.
Sabre will deliver these results in a way that seamlessly integrates with the existing platform. Sabre agency and corporate customers have mid- and back-office processes that cannot be disrupted. They need to book and manage content in the same way that they can today.
The importance Sabre is placing on supporting traditional content and maintaining current workflows along with the scale at which we can support large customers are key differentiators of the Beyond NDC strategy.
NDC Beyond Interfaces
By reimagining airline, agent, corporate and traveler interfaces, we are enabling airlines to differentiate their brand beyond their online storefront and instantly display rich content consistently across all channels. This includes corporate and agent booking tools, airline.com, airline agent interfaces, or shopping and booking APIs made available to other third-party developers. This is critical as airlines look to increase ancillary spend in the indirect channel. Today, only one out of every 200 bookings in the indirect channel has an ancillary attached. One out of seven bookings in the direct channel includes an ancillary. Through the new Sabre Red Workspace, airlines can start selling more seats, baggage, insurance and lounge passes through travel agents than they are today.
For agencies, comparison shopping is core to the agency business model. Successful NDC aggregators will be those that can present multiple offers, which vary not only by airline and price, but also content. An easily digestible presentation layer or API, allowing the agency and its travelers to select the best offer while maintaining current workflows, is essential.
For airlines, a redesign of the airline agent interface is critical to delivering personalized experiences and seamlessly servicing customers. Common passenger views simplify the linear check-in process and guide agents to address exceptions in an efficient manner. By following a retail-cart model, agents can also sell and fulfill ancillaries on a single page. Increased ancillary uptake further reinforces why our Beyond NDC is a win-win-win. Airlines increase revenues via the direct and indirect channels through smarter automation, agencies can easily target the products that influence choice, and travelers get what they want – the right travel experience for the right price.
Technology as an enabler
Our technology investment will make NDC-enabled solutions even more powerful with:
A Common, open architecture that makes integration easy and allows platform capabilities to be shared across all products.
Microservices that allow our customers to configure every product in a way that works for their business. Microservices Software Developer Kits (SDKs) introduce plug-and-play capabilities that accelerate innovation and drive efficiency through code reuse and modern software practices.
A globally distributed platform, with a network of public and private data-storage clouds, that provides enhanced security, improved response times and seamless performance.
Through these investments, we are evolving our technology to deliver the most advanced travel platform – a foundational component of making Beyond NDC a reality.
Continuing Innovation in Retailing and Distribution
Digital merchandising, customer data and revenue management have been key investments for Sabre. Beyond NDC brings next-generation retailing, distribution and fulfillment to life. By leveraging the depth of our data expertise and breadth of our channel reach, we are positioned to reimagine retailing across the travel ecosystem. Ultimately, airlines and agencies will elevate their businesses and transform the entire travel experience for customers.