A NEXT-GEN STRATEGY POISED TO DISRUPT THE INDUSTRY
Sabre Airline Solutions® recently released a whitepaper highlighting the business challenges faced by airlines in the area of customer experience. Brand differentiation and personalized sales and service are becoming increasingly strategic areas for leading airlines due to their market share and profit potential. In the whitepaper, Sabre discusses the unique complexities in the industry, analyzes new findings about revenue potential, and discusses ideal solutions for these problems in the market place.
Investing in and measuring the customer experience are key foundational steps to transforming an airline's bottom line. Personalization is the mechanism by which best-in-class service providers drive an elite customer experience and sticky customer loyalty. Delivering a personalized experience to air travelers throughout their journey is a tricky endeavor. There is a fine line between making personalized offers and overwhelming the customer with advertisements and notifications.
A balance must also be struck between strategically growing ancillary revenue and providing value-added services such as service recovery and other reactionary-type activities. The customer experience is, therefore, the sum of all experiences, and not just the offers. Ancillary offers must deliver value-add perks to the traveler. This is unlike the view of airline customers today: offers being viewed as the penalty for specifying their preferences to airlines. This is an important distinction that the market-leading carriers will need to understand.
Best-in-class service-providing industries offer highly personalized, timely and contextual customer experiences. When a customer scans a loyalty card at a coffee shop, uses his mobile banking app or calls his entertainment provider, the respective service providers immediately know the customer's name, his value to the company and his preferences for the consumption of that respective product. If this is understood, then product offers, proactive service and reactive service can be tailored specifically to that individual.
The aforementioned level of personalization is precisely what the modern consumer, and high-value traveler, expects. For airlines, this creates a negative return on expectation (customer experience expectation – actual customer experience = X), as is highlighted in a recent study by the Economist Intelligence Unit. Customers have begun to prefer and expect these personalized experiences, and airlines have not kept up with the trend. They have instead allowed the pendulum to swing (below) from a high-value, fully bundled product offering to a stripped-down, fully unbundled product offering, seemingly overnight. Customers have reacted with more frustration and less loyalty.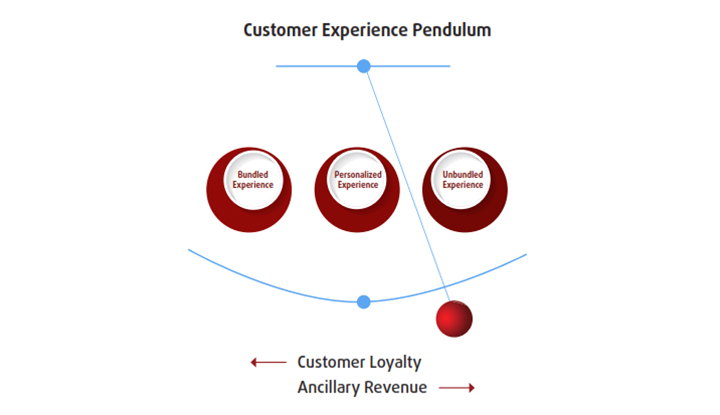 Personalization, however, is the sweet spot that customers expect, and fulfilling that expectation increases their loyalty. Industry leaders are beginning to take notice of these recent negative trends and adjust their strategy. 97 percent of airline executives will be investing in technology to personalize the experience for the customer in the next 3 years; and for good reason, as 92 percent of those airlines plan to monetize that investment with subsequent ancillary revenues, according to a study by SITA.
Technology now exists to support these ambitious, strategic initiatives. These new initiatives are ways of creating and monetizing value for the customer, increasing loyalty and expanding the airline's touch and influence throughout the traveler's journey. An airline's full journey dialogue with the customer will only become more important as smartphone penetration increases and airports progress toward a no-touch environment. With the mobile channel, airlines now have a greater ability to create contextual dialogue with the customer, therefore significantly influencing the revenue potential throughout the full journey. Airlines know the customer will have a unique experience when they fly. The question is: will it be the one designed for them?
To read the rest of the story, download the full whitepaper!