This is a viewpoint from Sabre CEO Tom Klein. For more executive perspectives, browse the ongoing Exec Pulse series here. 
While it's not always straightforward to see an opportunity that others can't yet see, this sort of foresight and vision is essential to true innovation. Coupled with persistence and hard-work, such a long-term vision can realize great rewards for any organization.
I recently had the pleasure of addressing the annual Sabre Airline Solutions Global Conference, where I shared some of the key opportunities defining the future of the airline business. Presenting to hundreds of decision makers from across the airline business, the emphasis was on the customer-centric approach that makes the most impact in travel.
"The farther a business can get ahead of customer needs, the quicker the customer can realize the value of the service — and the faster the business can recognize the revenue from customer purchases and adoption."
The process of getting ahead of customer needs involves a detail-rich understanding of the customer journey, an understanding that includes deep knowledge of the motivations, behaviors and desired outcomes of individual travelers.
And the only constant here is change. Gradual change must and will accelerate to rapid change. Technology has conditioned consumers to expect that. We all want each iteration of a product or service to be better and faster.That means faster responses, complete optimizations, shorter waits, better options, more relevant and personalized offerings and improved outcomes.
Technology is not new to the airline business. Yet it continues to be one of the most common items mentioned by airline executives as a top obstacle to improving customer experience. These technologies are also critical to improving operational performance and profitability.
In order to achieve this customer-centric vision, there are several technologies that will have an out-sized impact on the travel industry. Ranging from the simple to the revolutionary, it's within these areas that opportunities invisible to others can truly be uncovered.
Artificial intelligence
Artificial intelligence, including machine learning, is going to have an outsized impact on the travel industry. Already behavior modeling allows a machine to predict a desired outcome via predictive analytics. Expanding this capability is key towards building greater efficiency within the travel industry.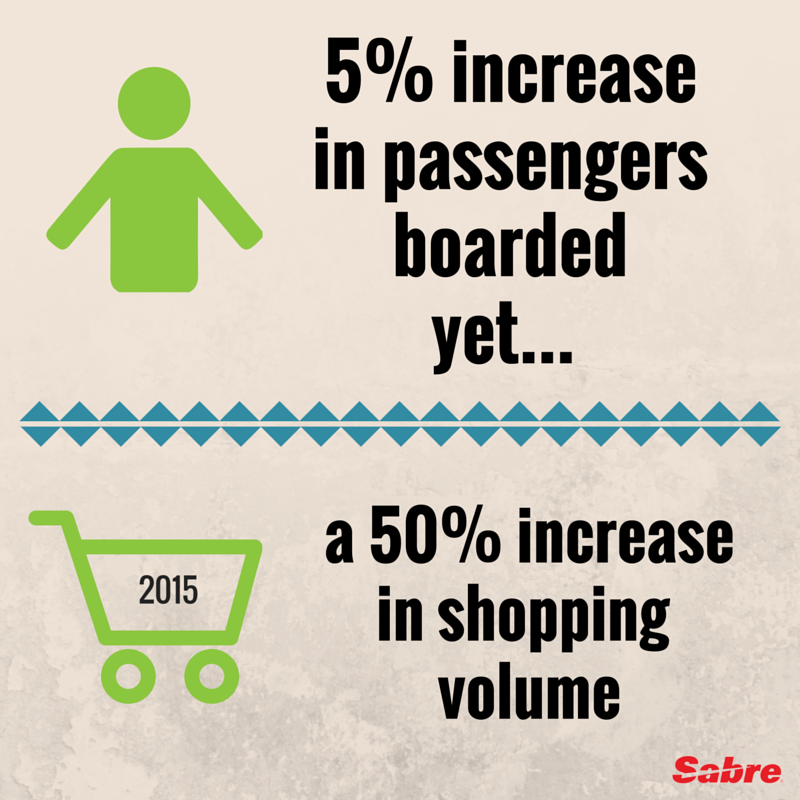 While the industry sees a 5% increase in passengers boarded year-over-year, customer shopping has increased by more than 50% over the same period. Clearly there is an opportunity here to use artificial intelligence to deploy data and analytics to make real-time recommendations based on real user behavior. This would replace the traditional rules-based offers, which are quite limiting and generally don't allow for deeply personalized and targeted shopping results that give users what they want when they want it.
Baggage handling
A prototype for a traceable and printable baggage tag is one powerful way to deliver more information into the hands of the traveler. This means that the traveler can theoretically know where a bag is at all times. The relevant information can also be seamlessly relayed to ticket agents and ground staff for immediate awareness of any disruption. This information can flow both ways to minimize pain for the inevitable mishandles.
Not that airlines can deliver every bag on time, but when it does misconnect, an airline can inform passengers before they ask where the bag is and when it will arrive.
We are building a prototype on Intelligence Exchange so that apps can consume baggage tracking information – either customer or agent devices will be notified of handling exceptions. These sorts of iterative technologies layer on top of existing systems to make information more accessible — and allowing true customer-centricity to thrive.
Real-time messaging
The travel industry has not ignored the immense popularity of real-time messaging services such as WhatsApp, Facebook Messenger, and WeChat. These platforms offer direct connections to customers, reducing cost and complexity of customer service while enhancing perceived value and customer satisfaction. Rather than bringing the customer into the airline's process, the airline is available right within the customer's familiar communication toools.
Biometrics
Security continues to be of paramount concern to travelers, airlines and the government. Ongoing efforts to secure the air travel experience have led to lines and dissatisfaction. While new technologies have made some parts of security less burdensome, the overall experience is still far more invasive and time-consuming than it once was.
Nonetheless, security cannot be sacrificed for convenience. Technology must step up and evolve to provide the greatest level of security with the fewest number of tradeoffs. Pre-screening programs, such as TSA Pre-Check, have reduced the pressure on many checkpoints, providing a fast and secure way to travel to members. Biometric technology would extend this further into using physical characteristics for identity verification.
As we discuss the airport of the future, we know that biometrics will play an increasingly important role in servicing and in security and risk assessment.
We are prototyping facial recognition and other biometric technologies for a variety of applications. Whether we integrate the capabilities of others or pioneer some of our own is less important than ensuring we stand ready to deliver what is needed, when it's needed by airlines or the airports they most depend on. This sort of focus on technologically-supported security also extends to how we think about new ventures and opportunities at Sabre.
We take a current challenge, deploy iterative thinking and explore adjacencies that might not always have a direct line back to the previous idea. And it is by relentlessly pursuing these adjacencies, that we are able to see opportunities that others can't yet see.
This is a viewpoint from Sabre CEO Tom Klein. For more executive perspectives, browse the ongoing Exec Pulse series here.