Hi-Trek is a series dedicated to showcasing the technology that powers travel. Technology plays a part in travelers' journeys across the globe. But don't take our word for it, read these stories from tech-savvy road warriors themselves.
It was 5 a.m., 33 degrees and sleeting as I stood at the starting line of the Walt Disney World Half Marathon. There were several thoughts running through my head: What am I thinking? Why am I awake so early and forcing myself to run in this terrible weather? The temperature had reached record lows for that time of year in Florida, and people were scrambling to wrap their palm trees in burlap. It was clear that I wasn't the only one who hadn't prepared for this.
As I waited for the race to begin, I thought about my family and friends, warm and tucked away in their beds. And I knew that throughout the 13.1 mile run, they would be cheering me on at every checkpoint—though they got to do it virtually. Even though this particular race was over 1,500 miles away from home, a free technology tool provided real-time updates that made them feel like they were right there with me.
The Walt Disney World Half Marathon is one of the hundreds of global races that sends roughly 400,000 text messages per race to fans. At specific checkpoints every few miles, my family and friends received alerts with my time and pace, so they could see how I was performing.
So what's the magic behind the tech?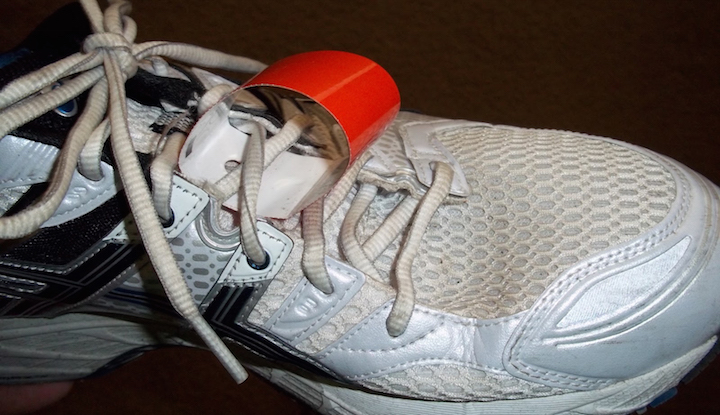 A chip timing system was the power behind this technology. Chip timing systems feature two components: a chip that carries a unique identification number (in my case, enclosed within a small band that I wrapped around my shoelaces) and a number of mats strategically placed at various checkpoints during the race that activated the chip.
The chip's transponder sends signals when it's within range of the magnetic field found on checkpoint mats, and it reports its own unique identification number to a central database. From there, depending on the recipients a runner has chosen, the information is sent to the cell phones or e-mail addresses on file—and this all happens instantly.
The best part is that these technologies continue to evolve. RaceJoy offers send-a-cheer audio clips, map view, mid-race social media updates and more. These features are great for trekking runners who travel quite a distance from their families and friends for the love of running.
I can't speak for the 500,000+ marathoners around the world, but the farther I am from home, the more support I need to cross the finish line. And, thanks to technology, I know my family and friends are cheering me on—no matter the distance between us.