This is a viewpoint from Sabre CEO Tom Klein. For more executive perspectives, browse the ongoing Exec Pulse series here.
Connecting people and unleashing potential
With the travel industry generating just under 10 percent of GDP and employing nearly 300 million workers globally, the opportunities for Africa are immense. It enjoys a growing role in the global leisure and business travel ecosystem, a role that promises great value to Africa and to the companies who are facilitating its growth. And, as Forbes rightly recognizes, there are some real missed opportunities for companies who don't do business on the continent.
Today, travel and tourism contribute around 8 percent of Africa's GDP with sector employment averaging 7.2 percent. Visitor exports are in the 17 to 55 percent range of total exports of goods and services across the continent for the period 2011-2014.
The foundation is solid, but there's plenty more to build. After all, Africa receives only a 3 percent share of worldwide tourism receipts and captures just 5 percent share of worldwide arrivals. With 55 diverse travel markets, and a McKinsey estimate of $400 billion in consumption growth over the next decade, Africa remains a large and lucrative market.
Impact of regional demographic shifts
Regional demographic shifts across Africa are also driving change. Population growth sits at 2.2 percent per year, growing Africa's population to an estimated 2 billion people by 2050. On its own, Nigeria will eclipse the United States to become the third most populous country on earth.
By 2050, at least 60 percent of Africa's population will live in urban areas

Share
Much of this population is younger, ready to explore the world near and far. By 2050, at least 60 percent of Africa's population will live in urban areas. Vibrant commerce will mean more business travel and a rising middle class will pursue more leisure travel.
These indicators are already encouraging deep investments in the African travel industry. One excellent example is Marriott's bold commitment to double its workforce across the Middle East and Africa regions over the next 3 years. This investment is significant, as Marriott's regional president Alex Kyriakidis told Bloomberg:
"Within three years, we are going to grow to 90,000 rooms and we are going to need another 30,000 associates. This company will be one of the most significant employers in the region."
Both regionally and internationally, the potential of Africa's tourism remains largely untapped — but enormously promising. An ongoing industry dialogue promises to develop strategies to capture a significantly larger share of the travel pie. This dialogue is especially important around technologies that accelerate growth of the industry.
Whether bringing business travelers into Africa to pursue new business, connecting families across long distances, or exposing visitors to a faraway land, travel is the backbone of prosperity. It accelerates economic growth and job creation. It fosters person-to-person understanding. It reveals cultural and natural assets to the world and encourages their preservation. It lifts up local communities. It creates business opportunities.
There are three key areas where Sabre technology accelerates travel industry growth. We will:
Provide the critical technologies to airline partners that streamline day-to-day operations, expand retailing capabilities and ultimately improve airline profitability.
Expand our distribution technology services to African travel management companies.
Deliver the technology to Africa-based hotel companies that helps them compete on a global scale and to manage operations effectively.
Achieving results through dialogue and collaboration
Part of our commitment to Africa is working within organizations to forge stronger ties with the United States. One example is the President's Advisory Council on Doing Business in Africa.
It's an honor for me to serve on this important council, which advises the President via the Secretary of Commerce, on ways to strengthen commercial engagement between the United States and Africa. I will bring Sabre's perspective on travel and tourism and the transformative role of technology to the council's work.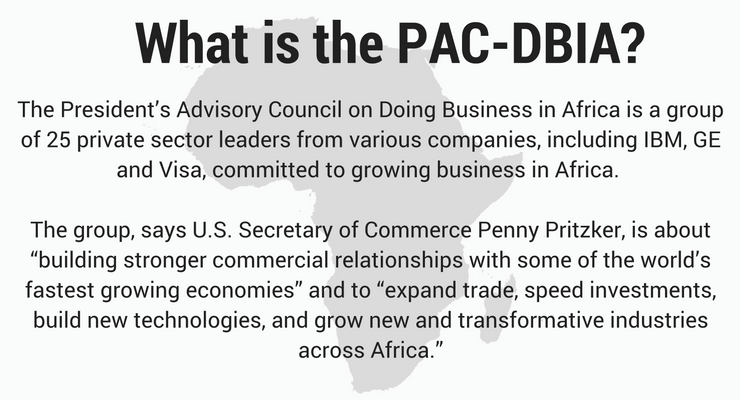 Through Sabre's participation in several public/private partnerships sponsored by the U.S. Department of Commerce, I've learned that robust, ongoing dialogue between sectors leads to outstanding policy outcomes. These outcomes also produce definitive business results for our industry and its partners.
Through this dialogue with African nations and partners, we will set and prioritize lofty goals. We will align government and industry participants to work together in achieving those goals. Together, we will knock down barriers that prevent us from reaching them.
Moving forward
We will construct a development plan to eliminate outdated notions of Africa. We will improve customer service, air capacity, and travel infrastructure to make Africa even more ready for international visitors. And we will explain and demonstrate how technology can drive the change.
Moving forward, we will fuse our local knowledge with our global expertise around airline profitability, travel retailing and operational complexity to craft market-relevant products. From hotels to airlines to travel agencies, we will write the next chapter of a great continent together.
This was a viewpoint from Sabre CEO Tom Klein. For more executive perspectives, browse the ongoing Exec Pulse series here.