Families and newlyweds alike have been flocking to the great outdoors for the hot trend in accommodations, upscale camping or "glamping." These locations offer amenities not found at traditional campsites, whether that be as luxurious as a camp chef or as basic as sleeping on a real bed. Camping for most people means tents, but glamping accommodations could include a yurt, treehouse, airstream trailer, and more.
If you're like me, glamping has just come on your radar in the last year or two, but the Journal of Outdoor Recreation and Tourism first noticed glamping emerging in 2013 in the wake of the recession.
Glamping got a boost this year as tourists decided to stay close to home rather than booking a foreign holiday. This could be attributed to external factors such as political unrest, Brexit, and interest in a unique, but low-cost holiday. Instagram has also helped to drive this trend forward by highlighting gorgeous glamping pictures that give everyone wanderlust.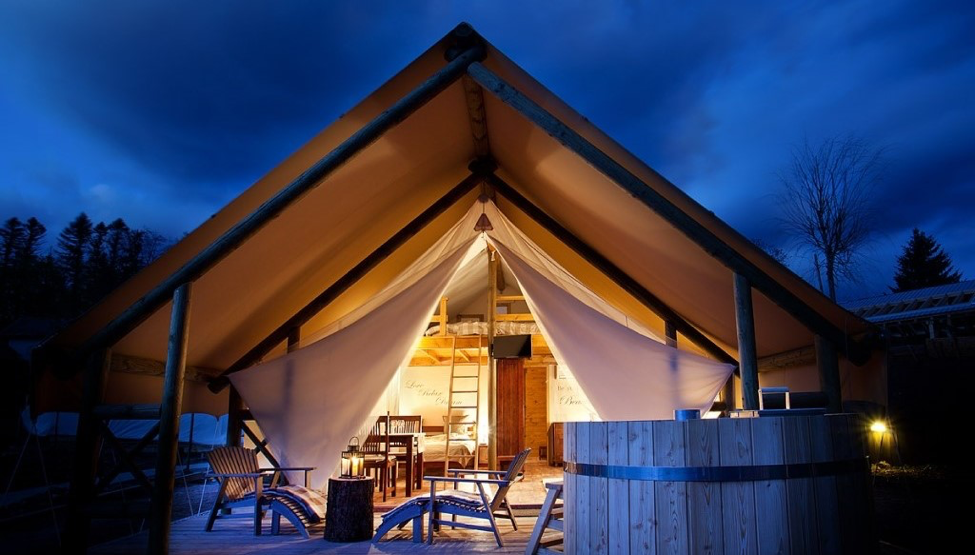 A look at Google Trends over the past five years, shows that glamping did, in fact, reach a new high in 2017. Interest in glamping also has clear seasonality, with the most searches occurring over the summer months.

Even more interesting is that the buzz is off the charts in Ireland. Google indexed search rates one out of 100 possible points, and the United States ranked 15th on the list with a score of 9. But Ireland had more than 10 times those searches with the top 3 locations being Galway, Dublin, and Cork.

Have you been glamping before? According to our facebook poll, 28% of respondents have.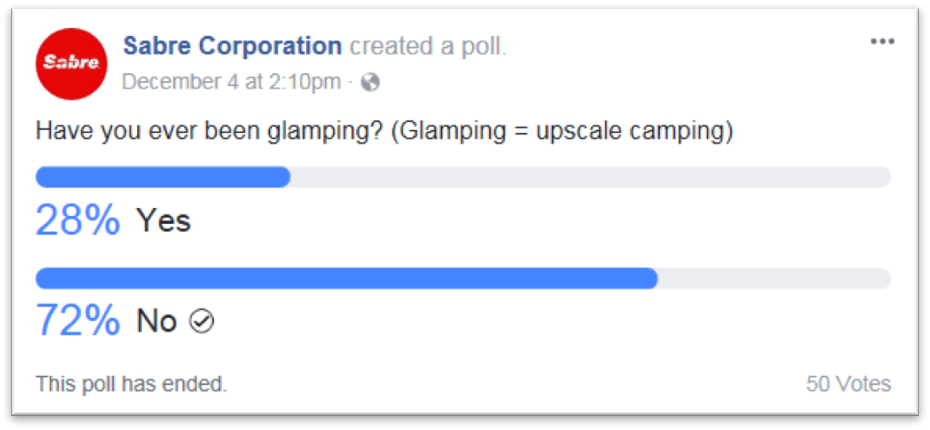 One Sabre employee recently glamped while on an African safari for her honeymoon. When asked why she picked glamping over a traditional hotel she said, "We wanted to have a luxury experience while in the wild. At night you could see all the stars and hear the animals, but at the same time we had 5-star hospitality, extraordinary dining, a spa, gym, and perfect amenities in our tent." And in case you were wondering, yes, she did book it through a travel agent. So, this new trend doesn't necessarily threaten travel agency bookings.
Help connect your travelers to the properties and experiences they'll remember long after they return to the office. Sabre already provides breadth of content at your fingertips that goes beyond traditional hotels. But we aren't stopping there – we are on a quest to reimagine lodging for travel consultants and end travelers alike. Come along for the journey and let's reimagine together. Click here to learn more about our upcoming Sabre Content Services for Lodging.