The Arabian Travel Market is the leading global event for the Middle East travel industry, bringing together travel companies, technology providers, airlines, hotels, tourism authorities, and others from the travel industry. There are over 2,800 products and destinations and over 26,000 buyers across 4 days in Dubai.
With some of the most progressive innovations in travel, ATM is a great place to discover the latest technology pushing travel into the future, including advanced personalization capabilities, wearable devices, and apps.Here are four topics making an impact on the industry to explore at Arabian Travel Market 2016.
Loyalty in the Middle East
Travelers hailing from the Middle East have a different set of expectations, prioritizing a luxury-forward travel experience that is differentiated from a standard travel journey.
In order to capitalize on the regional expectations of travel, suppliers must consider how to build loyalty through consistent experience. Sarah Kennedy Ellis, Sabre Hospitality Solution's VP for Global Marketing, will emphasize that "loyalty is up for grabs." Hoteliers seeking to differentiate and capture that loyal guest will learn which technologies best help hoteliers deliver distinct and reliable guest experiences. Tuesday, 26th April, 13:30 – 14:00. 
As far as capturing loyalty, travel suppliers must adapt alongside evolving traveler expectations, says Daniel Naoumovitch, CEO of Sabre Travel Network Middle East:
"Traveler expectations are changing on a daily basis. It's something we need to focus on. They ask friends and read reviews before their trip. That information today will fly over a network of that particular traveler. We need to be very careful and savvy on how to provide that ultimate experience for our travelers."
Shared challenges in travel
One of the key resources available at the Arabian Travel Market is the seminar program in the Exhibitor Showcase Theatre. Exhibitors fill out a schedule of presentations on best practices, new offerings, latest technologies and industry challenges. The hands-on learning sessions offer a perspective on the Middle Eastern travel market and how the region is growing in online travel.
One of the pieces to managing change in travel is the ability to successfully harness emerging technologies, as well as manipulating existing platforms to play well with the new kids. Navigating these transitions is a widespread shared challenge in travel, according to Naoumovitch:
"As the adoption of mobile and online travel is growing enormously in ME, we want to ensure the travel industry in Middle East is ready to leverage this technology and serve travellers at anytime, anywhere on the device they prefer."
Capturing market share in a growth environment
The Middle East is booming: Outbound travel has increased from 8.2 million in 1990 to 36.2 million in 2010. The makes the average annual growth rate of 9.9% the highest in the world, well above the global average of 3.4% for the same period.
The chart below from Phocuswright shows just how rapidly the region is growing – especially in mobile direct bookings.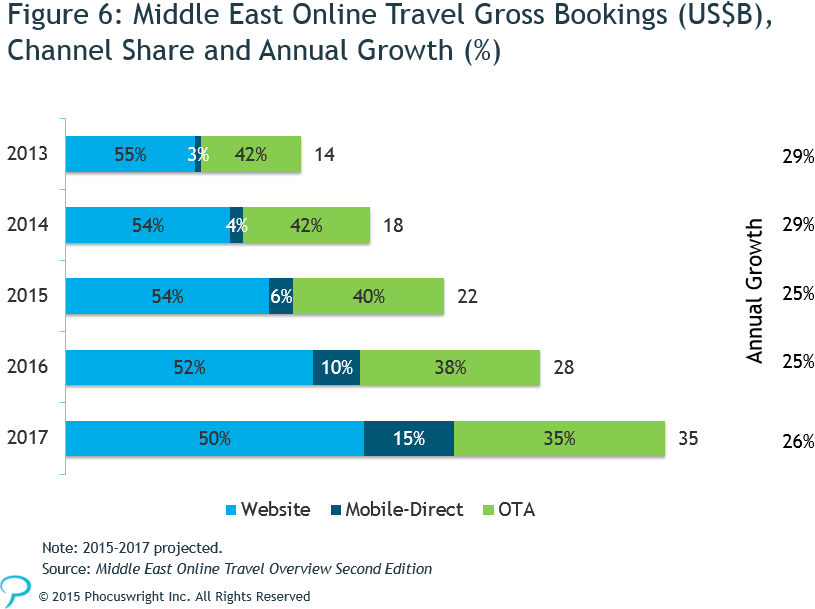 In addition, according to Google, 75% of millennial travellers in the UAE have researched their most recent flights online, and 34% of all millennial travellers purchased flights online. This means that travel suppliers serving the region must be prepared with a variety of approaches to seize market share.
Antonella Vecchio, Vice President Online and Land & Sea for Sabre Travel Network EMEA, will speak about the growth and potential Sabre sees in the Middle East online travel market. Antonella's presentation "Go Online or Go home" clearly states that travel companies should embrace online and mobile strategy now in order to compete in fast evolving market place. Tuesday 26th April, 15:45-16:15
Tomorrowland: The future of travel
Joakim Everstin, the Head of Innovation & Tech Evangelist at Sabre Travel Network EMEA, will expand on this topic with his popular "Tommorrowland" presentation. Everstin will take the audience in a trip to the future, nine years from now, and anticipate how travel will look like. Monday, 25th April, 14:15-14:45.  
Olaf Slater, Chief Product Office of Trust International, will also offer a perspective on the future of travel by focusing on how emerging technologies can transform customer engagement in the near-term. Emerging consumer technologies and the enormous traveler preference for mobile are facilitating improved customer engagement. This engagenent leads to more business. Paired with digital distribution capabilities available to suppliers, consumer retailing in travel is about to be transformed. Wednesday, 27th April, 13:30 – 14:00.
Beacons, geo-fencing and social media are all topics of exploration at ATM, leaving plenty of opportunities to learn about technology in travel. Naoumovitch, emphasizes just how the future of technology is already in our midst:
"We will provide the visitors with a glimpse into future technologies that could dramatically change the way consumers experience travel – from shopping via virtual reality using heads up devices, to using voice command smartwatches, to personalized services."
See you in Dubai!
Sabre Travel Network Middle East (STNME) and Sabre Hospitality Solutions will be exhibiting at stand # TT1550- at hall 3 by the entrance to Shaikh Saeed, from 25-28 April, 2016.