The business traveler is a species on the move, always seeking a better experience for a more seamless trip. The desire to arrive rested and ready for action is tied to the fact that these travelers aren't traveling for fun. They have an objective and that objective is directly tied to business opportunities, whether pitching new business, meeting with clients or connecting with employees.
So what are some of the trends that currently define the business traveler? Alongside our friends at Egencia, we crunched the data for a view into the state of today's business traveler. We took the date from the most recent calendar year with verified data, which was 2015.
Wade Jones, the interim president of Sabre Travel Network, knows that data drives decisions for corporate travel managers:
"Smart businesses can leverage travel insights in more creative ways to strengthen corporate programs, while making trips more productive and travelers more satisfied. With the data we have today, the strategic approach is simplifying the travel experience by putting the business traveler first."
Here are four key graphics from the report that illuminate the habits and behaviors for corporate travel.
Booking trends
It's clear that the holiday season is the least busy for corporate travel bookings. When parsing data on corporate bookings, the data shows March to be the busiest month. By using data-driven decision support tools like the Trip Cost Planning Estimator, as well as a solid understanding of a company's needs, travel managers can work to maximize cost efficiency when it comes to scheduling business travel.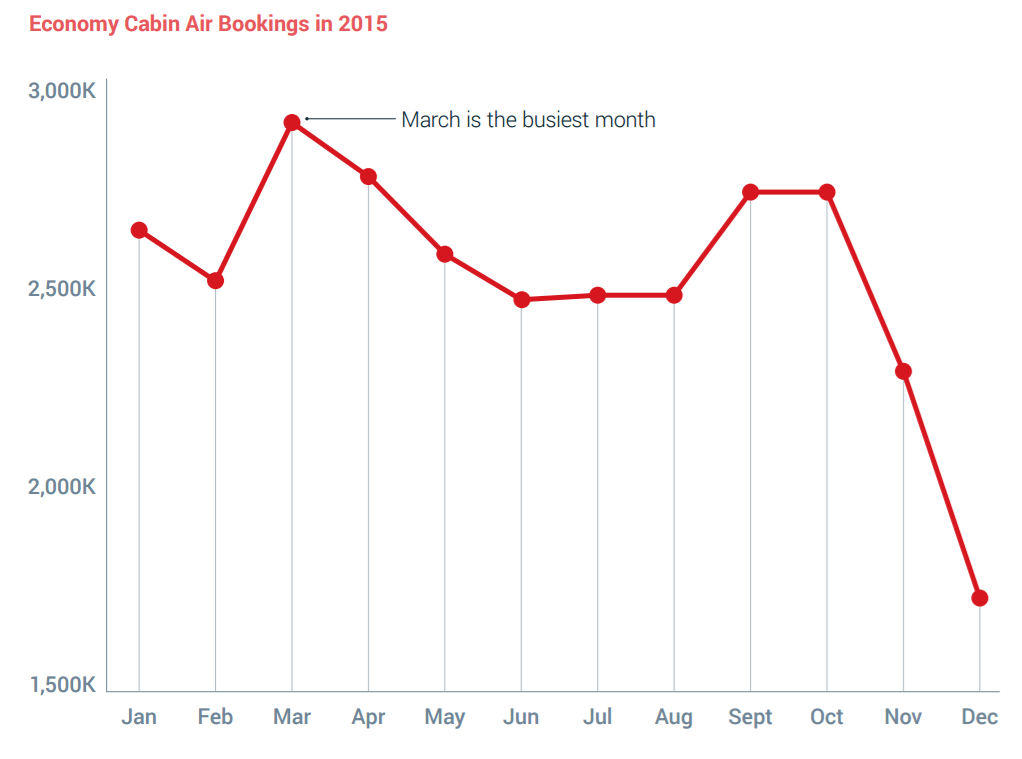 Advanced air purchase
The further out a trip can be booked, the easier it is to lower cost. The majority of business trips are boked within a week before the departure date. This is a high-cost time to book travel, as inventory is more likely to be constrained. And, of course, airlines charge a premium for these last-minute itineraries.
By considering how travelers plan trips in advance, there can be an enormous benefit to corporate travel managers.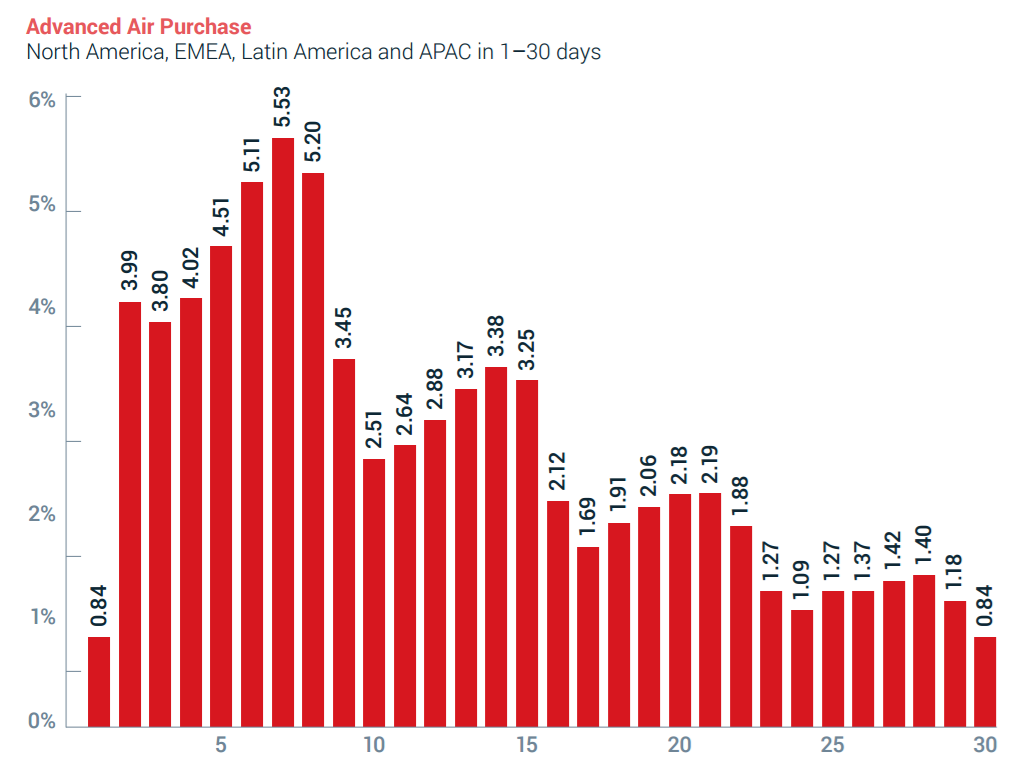 Usage of apps
In a study last year with GBTA, we found that only 1 in 5 business travelers work for companies that require specific apps for business travel. This leaves leakage opportunities in place, as business travelers are able to move through whatever app flow they prefer. While there are benefits to this freedom, the reality is that travel managers can more successfully manage more travelers when there is a consistency of apps.
This chart breaks down which types of apps business travelers use most, highlighting opportunities to engage travelers in their preferred behaviors.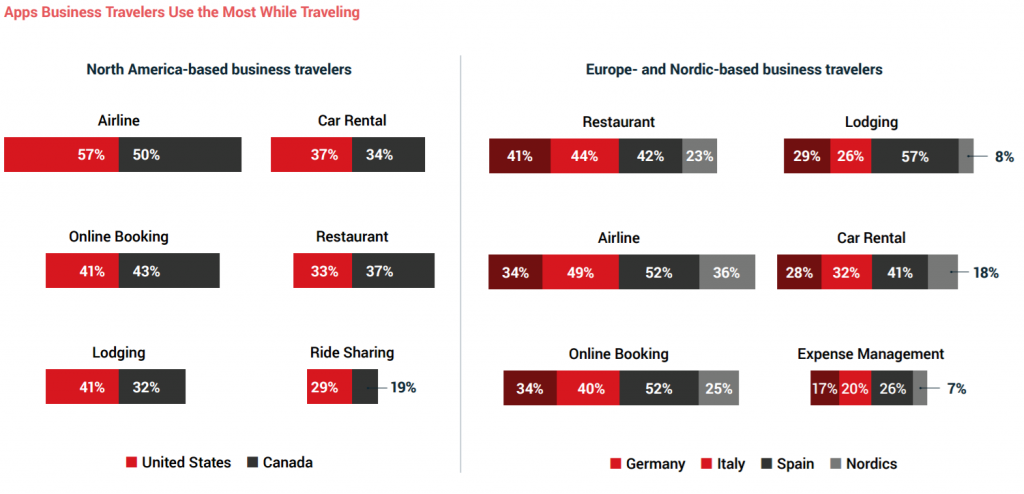 Interest in ride sharing
Ride sharing continues to be a dominant force in the transportation industry. These on-demand ride apps are especially popular among certain business travelers who don't want the cost or hassle of renting a car for every trip. Especially for urban business trips, the car rental can be less practical both from as cost and process perspective.
Younger business travelers are far more likely to be interested in ride sharing. So be sure that your travel policy and app ecosystem includes ways for these travelers to maintain compliance without losing convenience.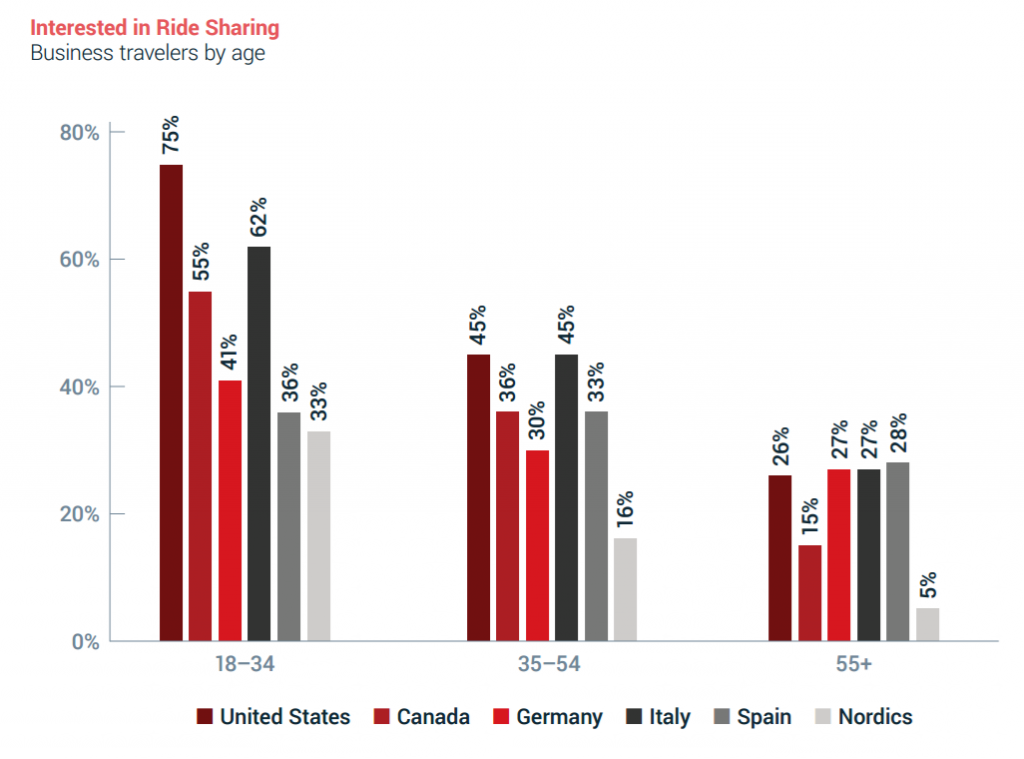 For ways that you can use this information to improve your business traveler experience, download the full report here.