A healthy dose of skepticism is warranted and welcomed whenever a brand claims an 'industry first.' Yet this is absolutely the case for DFW Airport's new Apple TV app, which is the first of its kind.
As more hotels integrate technology such as Apple TV, there's certainly a growing case for non-traditional players entering the space. The reality is that most travelers will refer to their smartphones for this kind of information.
However, as hotels integrate personalized entertainment options into the guest experience, airports have an opportunity to put more information in traveler's hands. And with the Apple TV acting as a centralized hub for personalized control, some hotels will be installing these devices for guests to connect to other room amenities, such as lights, temperature, and blinds.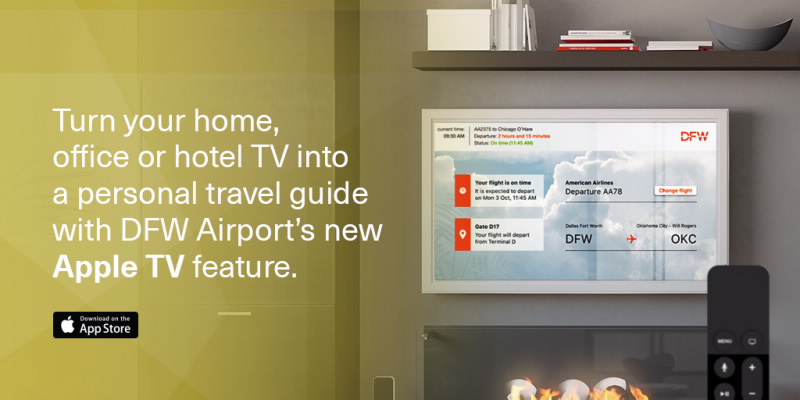 The app itself has three primary components:
Flight Information: Flight search surfaces important information, such as departure time, time until departure, gate number and flights status. Especially handy is a frame that sticks to each screen, so the selected flight can be seen throughout.
Parking: A full parking layout, including availability, rates, and showing the parking closest to gate.
Traffic Map: Automatically pulls in location and displays traffic and estimated time of arrival. This helps stay on top of current conditions to avoid stressed-out arrivals.
We spoke with Sharon McCloskey, Vice President of Marketing at DFW Airport to learn more about the airport's decision to invest in an app for Apple TV.
Airport operators must choose between different priorities when investing resources. Walk us through how DFW came to the decision to invest in an Apple TV app.
At DFW, we're really focused on using technology to deliver a high-end, personalized experience for our customers, and our app developer, M2Mobi has helped keep us on the leading edge of industry trends and incorporating customer feedback for each release of the DFW app. In between releases, our teams researched new technologies that could reach our customer base, and research showed that DFW customers use Apple TV more than any other streaming service. We took a close look at the recent rise in Apple TV sales, and seeing that hotels and family homes are adapting these into their everyday lives, M2Mobi presented this app solution as a research and development project. It was absolutely something DFW wanted to pursue.
What are the main two to three objectives for the DFW airport app? How are you measuring those objectives?
The most important objective for the app is to deliver a sound experience for the customer with flight information, parking availability, shops and restaurant locations, etc. Secondly, we want to offer a tool that our customers can use conveniently in the palm of their hand to navigate the large footprint of DFW's terminals. DFW also is undergoing major renovations inside of our terminals which affect the wayfinding experience. With the app, the customer is able to view an interactive map with turn-by-turn directions and a list of points of interests that could appeal to them.  We measure these objectives through customer research app feedback, and app downloads and usage.
Given the knowledge that you now have, what would you do differently if you were developing an Apple TV app again?
Since it just launched last month, we are still in the phase of gathering feedback; however, we will continue to enhance the parking products screen to see how we can keep customers up to date on all of the on-Airport parking options. We also want to improve the map screen to show detailed directions to each terminal and perhaps offer more way-finding options.
Airport marketing is becoming increasingly competitive, especially in regions (like Dallas) with more than one major airport. How does this Apple TV app fit into your broader marketing strategy?
The Apple TV positions us as an airport that is continuously investing in the customer experience. We want to be the airport of choice, whether you're originating in North Texas or connecting to another destination. As stated in our brand tagline, "Travel. Transformed," we want to offer another level of digital service.  Sometimes that requires us to take risks into areas we have never done before. The Apple TV is a good example of that.
Looking ahead, what is the vision for the Apple TV app? Is this a pilot or is there a roadmap that continues to integrate the airport into the Apple TV experience?
As with all of our digital assets, we continuously seek feedback from our customers and also look into analytics to determine in which areas we can improve, add, update and more.
The DFW Airport app is available via the iTunes store.