You know the rule: what happens in Vegas, stays in Vegas. However, we at Sabre Dev Studio are so excited about the solutions that emerged from Hackathon:TTX that we couldn't possibly keep the news to ourselves. Besides, what's a hackathon without a little rule-breaking? In past hackathons we've encouraged our developers to push the limits of what's possible in both the B2B and B2C spheres, and the most mold-busting, travel industry-disrupting solutions always earn the top prizes.
So when we decided to kick off this year's Travel Technology Exchange (TTX) with a hackathon, we knew we were in for some bad behavior – and we couldn't be happier with the innovations that our rock star developers crafted in just 24 hours.
On Saturday, June 24 and Sunday, June 25, we pulled a different kind of all-nighter at the Aria Resort and Casino on the Las Vegas strip. A collection of tech's brightest developers, designers and entrepreneurs, ranging from college undergrads to Sabre-veteran developers, faced off in a round-the-clock race to disrupt the travel industry. The challenge was simple: build a B2B or B2C travel innovation that embodied the following set of criteria:
Frictionless: Remove obstacles and make the traveler experience as seamless as possible

Unified: Provide a comprehensive experience for the customer regardless of where they start, continue or finish the shopping process

Personalized: Tailor travel directly to the customer's preferences, offering the right product to the right customer at the right time
Some hackers came in teams, others formed during the networking hours. As with all Sabre hackathons, participants came from all corners of the globe and all walks of life. After presentations from Sabre, Microsoft, Ticket Evolution, Twilio and Smooch.io, coding kicked off at 3 p.m. on Saturday. The developers worked tirelessly through the night and into the next day, with the exception of breaks for snacks, Jenga, and even a few short naps in "tent city." We even had a hackathon attendee show up at 1 a.m., ready to code, after he had experienced some travel disruption firsthand when his flight was cancelled. There's a lot to be said for perseverance.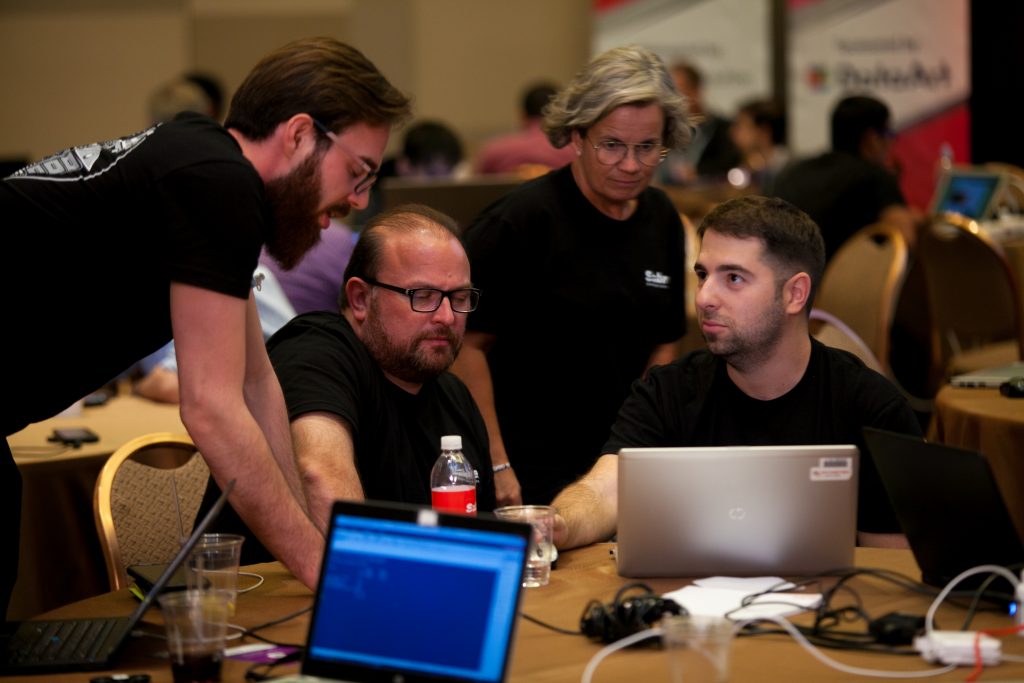 A variety of solutions began to come together as the night went on, including innovations for the new Sabre Red Workspace, chatbots, voice interfaces, the Internet of things (IoT), group travel and beyond. Sabre staff and our awesome sponsors were available to answer questions and tackle roadblocks throughout the entire event. At 3 p.m. on Sunday, developers had to close off their code and pitch their solutions. This year's panel of judges represented a well-rounded group of tech and travel industry voices:
Mark McSpadden, Vice President Emerging Technologies and Products, Sabre

Alex Shchedrin, Vice President, DataArt

Monica Coney, Manager, New Business, American Airlines and Founder, Chief Executive Connections

Barbara Joseph, Manager of Incubator and Agency Services, Virtuoso
The pitch process is always an incredible event to witness – it is truly amazing what working solutions these developers can design in such a short amount of time.  After two hours of pitches and deliberation from the judges, a grand prize winner was crowned along with winners of several side challenges.
Grand Prize: Flyo
This team of college students from The University of Texas at Dallas came all the way from Sabre's home state to compete in the hackathon. Flyo is an Amazon Echo app that makes it a breeze for travelers to plan trips with their friends. Through Flyo, the user is able to search for flights, hotels and events, receive text message itineraries, and then book and share with friends.
"Sabre had some really powerful APIs for travel services which the hackers incorporated into their apps. Our teammate, Sandeep Namburi, thought it would be very cool to integrate those APIs into an Amazon Echo device. The goal was to make it convenient for users to create and share travel plans with their friends. Hackathons are a great way to work on those crazy ideas that you always get and Sabre's Dev Studio was easy to get started with."
– Rahul Sonwalkar, Flyo
Best Use of Emerging Technology: Luna Moons
Luna Moons built an app ideal for planning celebratory life stage travel, like honeymoons. Their app enables consumers or travel agents to select hotels and compare available room rates to price their entire itinerary. With a focus on room rate collection and organization, Luna Moons also incorporated a sharing component to allow travelers or agents to share their itinerary with one another in real time.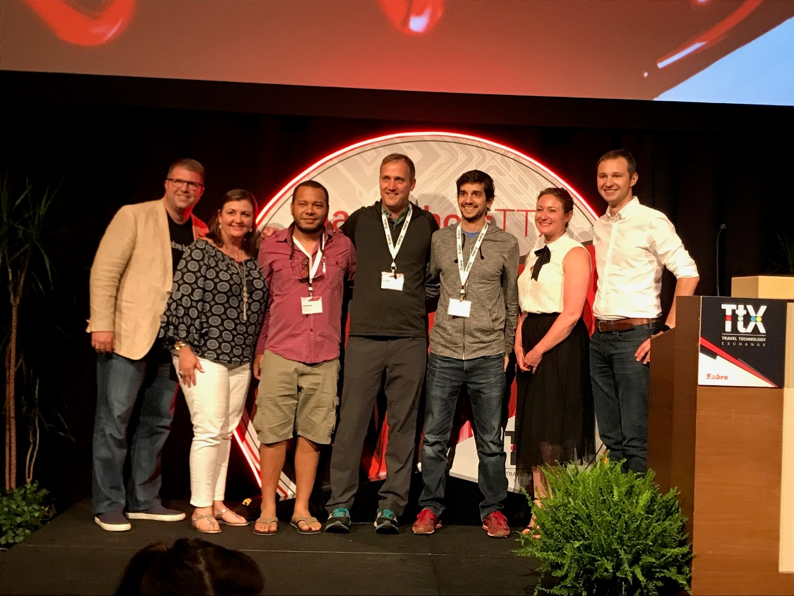 Best Use of Sabre Red Workspace: Upcoming Events
Upcoming events is a panel widget designed for the new Sabre Red Workspace. An enhancement for travel agents, this widget shows agents upcoming parties, concerts, sporting events and more, which the agent can then suggest to a customer in order to tailor the travel experience to their unique preferences.
"I wanted to participate in the Sabre TTX Hackathon because I knew how antiquated the travel industry was. There's so much room for improvement when it comes to travel tech, and I'm glad to see Sabre paving the path. When I arrived, I was greeted by Chris and the rest of the crew, who were super friendly and already treating me like a rockstar coder (even though I hadn't done anything yet!). The setup, atmosphere and amenities reminded me of the LAUNCH Hackathon I had attended before in San Francisco. It's considered one of the biggest/best hackathons in the world, with 1,500+ participants and $1,000,000+ in prizes. To see Sabre on this level was truly impressive and it showed me just how much of a priority innovation is for the company."
-Seena Zandipour, Upcoming Events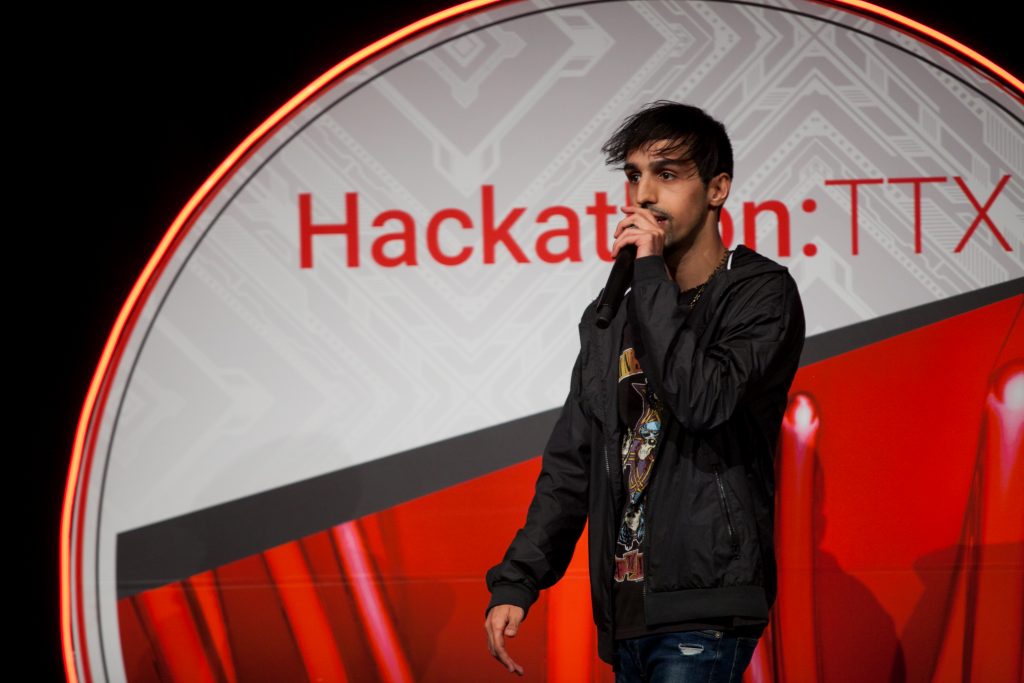 Innovation Firsthand Through Hackathons
Hackathon:TTX was perhaps Sabre's most successful hackathon yet. We at Sabre Dev Studio love hosting hackathons, and not just because we love to stay up all night eating pizza. For our developers, hackathons are a catalyst for innovations in technology and a foolproof incubator to work with emerging technologies – and to see what's possible now and in the future. On the Sabre side, we get firsthand experience on how to continually provide a best in class experience for developers that rely on our open technology. Finally, our hackathons put a spotlight on the power of the Sabre platform as our developers build incredible solutions on top of our technology. Where are we headed next? Stay tuned! No matter where our next hackathon takes place, we look forward to seeing you there.