Utilize Personalization To Optimize The Customer Sales And Service Experience
Sabre Airline Solutions has released a new whitepaper highlighting the business challenges faced by airlines in the areas of customer data, personalization, and retailing. Brand differentiation and customer-centric sales and service are becoming increasingly strategic areas for leading airlines due to their market share and profit potential. In the whitepaper, Sabre discusses the unique complexities in the industry, analyzes new findings about revenue potential and loyalty growth, and discusses possible solutions to these problems.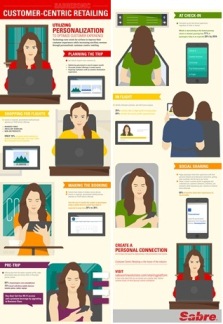 Planning The Trip
Get noticed and acquire more customers
 Shopping For Flights
Personalized retailing focuses attention on your airline's offerings
 Making The Booking
Convert more lookers to bookers across devices
 Pre-Trip
Make personalized sales and service offers in the proper context
Check-In
Consistent up-sell and service opportunity regardless of check-in channel
In-Flight
Identify individual customers and sell & serve uniquely
To learn more about Customer-Centric Airline Retailing, download the whitepaper!