For the 9th year in a row, Sabre was voted Best GDS by Travel Weekly readers in North America. These awards honor the best of the best in the travel business, from airlines, hotels, cruise lines, destinations, tour operators and more, and are chosen through a 2-phase voting process with Travel Weekly readers. Award winners represent a who's who of the travel industry.
Shelly Terry, Sabre Travel Network vice president of sales management says, "This award is such an honor because it comes from travel pros who know and use our GDS. Receiving it nine years in a row certainly tells us we're giving them the edge they desire. And if you like what we've been doing, just wait until you see what's coming." Being voted Best GDS by Travel Weekly readers tells us that our vision of intelligent retailing is aligned with our customers' needs and wants.
Robert Needs and Amy Andrews with Sabre Sales Operations attended the December 14, 2017 black-tie gala in New York to accept the award. Everyone was in good spirits at the event. Here is Robert's poetic take on the night:
"It was a bitter cold day in December and all through the city,
The travel industry gathered in New York, all dressed nice and pretty.
It was an award night for the "best of the best"
Several categories listed – including travel tech.
Jake and Amy were there, the first time it's told,
In formal attire—what a sight to behold!
The crowd was buzzing as winners were announced–
Several customers, cruise lines, hoteliers and airlines to pronounce.
The excitement was building as it got to "Best GDS" –
Would Sabre win again or would they be depressed?
The nominees shown on the board with great care,
When the word "Sabre" was shown, we jumped in the air!!
We accepted the award, high fiving all the way,
Walking by Amadeus and Travelport with winks and a wave."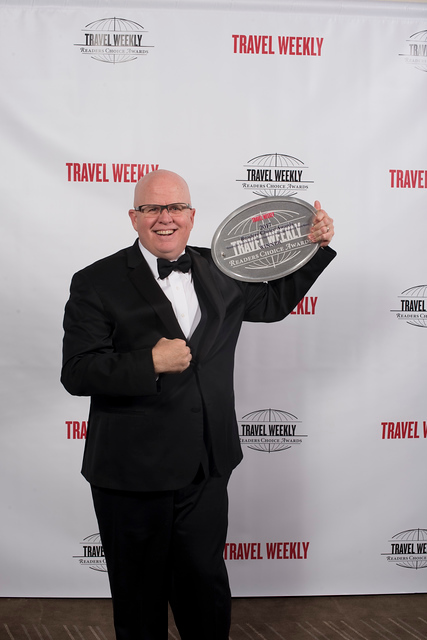 We are hitting the ground running in 2018! With many exciting technology advancements coming—including major upgrades to the new Sabre Red Workspace—our commitment to helping customers outthink, out perform and out innovate the competition is clear. Here's to another great year of travel innovation!