For both travel companies and travelers, air merchandising is more important than ever. Travelers today want to book their ideal journey and are happy to pay for extras that add value to their itinerary. It's this demand that drives airlines to adapt merchandising strategies and be more like the retail sector, creating maximum exposure for their brand.
Ancillaries have grown immensely over the past decade, jumping from $22.6 billion in 2010 to $59.2 billion five years later. That's a 163% increase, making ancillaries a key characteristic of a healthy, profitable airline.
"These figures show the impact that ancillary revenue has on the bottom lines of airlines, but it is also a critically important element of the customer experience."

Michael Cunningham, Chief Commercial Officer at CarTrawler
The acceptance of ancillaries is encouraging to airlines, who are seeking to hone their retailing expertise and evolve the model using data-driven techniques culled from the retail industry.
Back to the bundle
Air merchandising originally referred to the process of unbundling services from the base fare. The business imperative was to provide the lowest base fare and then let the traveler layer additional services. This provided a deeper level of personalization while also allowing the airlines to unlock some value in stand-alone services.
Recently, it's been back to the bundle for some airlines. The return to a comprehensive fare, inclusive of services, has evolved the narrative. It's now about encouraging a la carte personalization but also streamlined packages of services. From early boarding to full flexibility without change fees, bundles are a means to up-market the merchandising experience.
The ongoing evolution of merchandising represents the maturing of an industry. Airlines have recently enjoyed record profitability, a level of success that comes not just from low fuel prices but from these business model tweaks. The strategic shift towards retailing and merchandising has given airlines far more sophisticated pricing power and greater potential for profits. Airlines have responded by investing in their product — leading to a 10-year high of traveler satisfaction.
The maturity of the merchandising model will lead to further retail-style implementations. There will also be more attention on individual traveler experiences through preference-driven personalization. Airlines will continue to track the retail industry in the way that products are distributed, displayed and dynamically altered. One price does not fit all, and the dynamic pricing models will offer the best bundle to the right traveler.
Getting on board
Sales of relevant air ancillary products and branded fares are increasing and are now an essential part of flight bookings. So airlines and travel agencies need to adapt and work together to show full transparency of total journey costs and provide all the optional extras that more and more travelers demand.
Offering an end-to-end booking service with additional air options gives agencies a better opportunity to help their clients cut through the complexity and demonstrate their expertise.
Yet, according to the 2015 IATA passenger study, 55 percent of all airline ancillaries are booked on airline websites. This means that travel agencies, OTAs, and other intermediaries are not able to provide the full-service experience consumers expect.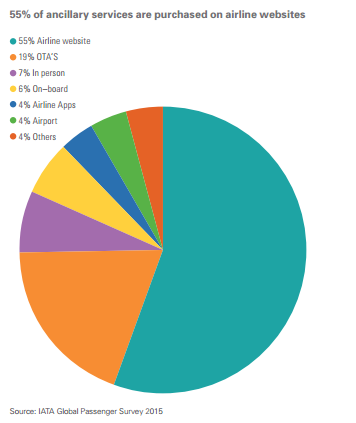 There's a danger that not offering a complete end-to-end booking service will prompt travelers to book direct or switch to other agents. Agencies could and should take advantage of this opportunity to differentiate themselves. The opportunity to be valued experts and stand out as stellar travel consultants is lucrative. Repeat business comes from delivering greater value to customers, after all.
Emerging technology standards are able to place ancillary inventory into a variety of consumer booking channels. The industry as a whole can unlock more value by working together, not only on a better understanding of the customer but on better tools to improve the customer experience. Ultimately, it's a focus on the traveler that helps airlines thrive — and together, the industry can continue delivering profitability alongside greater traveler satisfaction.
'Get Onboard' looks at the growing air merchandising business model and how it benefits travelers, airlines and agencies alike. It also considers emerging technology standards, such as IATA NDC, and what they mean for airlines and travel companies.