Sabre Airline Solutions® has released a new whitepaper highlighting the business challenges faced by airlines in the area of customer data, retailing, and personalization. Brand differentiation and personalized sales and service are becoming increasingly strategic areas for leading airlines due to their market share and profit potential. In the whitepaper, Sabre discusses the unique complexities in the industry, analyzes new findings about revenue potential, and discusses ideal solutions for these problems in the market place.
Companies like Google, Amazon, Facebook and even Rdio have customer-centric data science in their DNA, having grown up quickly during the mid-2000s tech boom. These types of companies were built on a data-first foundation from the beginning. In terms of customer data utilization, airlines are at a natural disadvantage. There are many challenges associated with unifying and optimizing airline customer data, and the struggle is real. According to Forrester, many airlines use as little as 12 percent of their data; meaning they are leaving as much as 88 percent of it on the table.
Atmosphere Research Group's Henry Harteveldt, has long argued that customer data is an area where airlines should actually be excelling. "Aviation has been data-driven for decades, monitoring customers and operations, but has it been using it in the best way?"
Data processing is beginning to change, however. Updated transactional and operational systems are slowly replacing legacy systems, but airline leaders are not simply interested in the transactional data any longer. Leading airlines are proving to be smarter than the competition by knowing and analyzing their customers. Trouble is, the data that customers share with airlines is evolving in its size, structure and other attributes.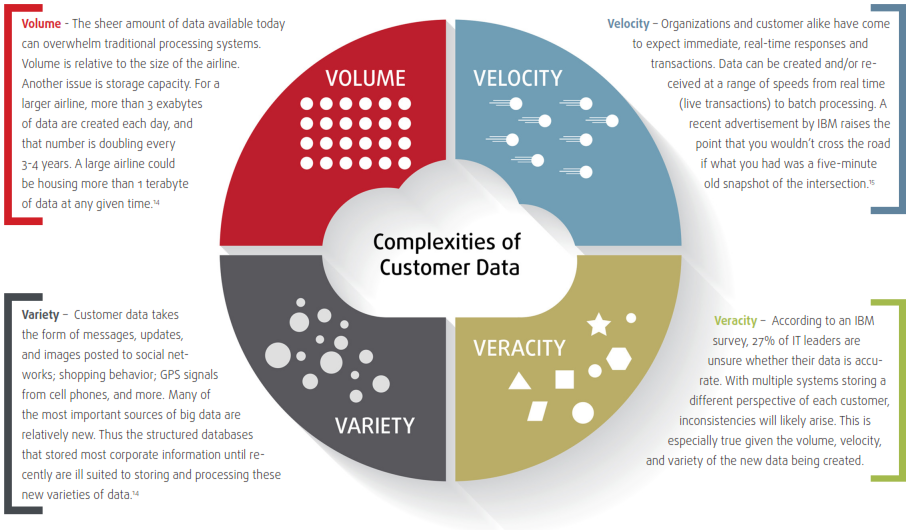 "Ninety percent of the data that we have has been created in the last two years, and 85 percent of it is unstructured data," said Terry Jones, founder of Travelocity and founding chairman of Kayak. "It's just out there. There is a lot of knowledge to be unlocked there. We are pretty good at teasing out some of these things, but they are not in traditional rows and columns. This stuff just doesn't fit in there."
Traditional data analysis is a laborious processing consisting of siphoning off the chosen data set into to a data lake, mart, store or separate data warehouse, then applying a query to extract the information needed. Today, this type of analysis is still common. However, the growth of the size, speed, variability and inaccuracy of the data coming into an airline's systems have changed dramatically.
According to the annual Forrester Customer Analytics survey, managing and integrating data from a variety of sources is the single biggest challenge for customer analytics professionals globally. Airlines have been attempting data aggregation projects for decades, with hopes of achieving the single source of truth about their customer. With at least 20 enterprise data sources within most airlines and some larger carriers housing 50 sources or more; a single, comprehensive view of the customer is a highly complex and an expensive undertaking for an in-house IT project. Some airlines have succeeded in the creation of a single, sustainable customer-data-management system. Often, however, these initiatives lead to the creation of yet another data silo that requires regular re-calibration over time, creating more disorganization than existed in the first place.
To read the rest of the story, download the full whitepaper!