The total customer experience is a primary driver of competitive advantage for airlines: this was a key finding of an executive survey from Sabre and Forbes Insights released as an Executive Summary in May of 2016, "The Competitive Airline: Enabling Operations to Create the Best Customer Experience."

Travelers are the same savvy consumers who have grown accustomed to unprecedented levels of positive customer experience from global companies like Google, Amazon, Ali Baba and Uber. The explosive growth of data and the ability to integrate that into actionable knowledge and make decisions in real time is a critical enabler that these organizations are using to maximize their customers' experiences.
Airline customers deserve and expect no less.
Operational performance drives both customer experience and profitability
The Executive Summary, based on a survey of more than 100 global executives from the top airlines worldwide, revealed that airlines are challenged by data that is locked-up within departmental silos and across disparate systems. This prevents data from being consolidated in real-time, an essential requirement for improving operational performance and the customer experience.
If this data could be unlocked from across departmental silos, the objectives and business processes that drive operations, marketing, IT and finance can be aligned, allowing for more timely decisions and improved performance.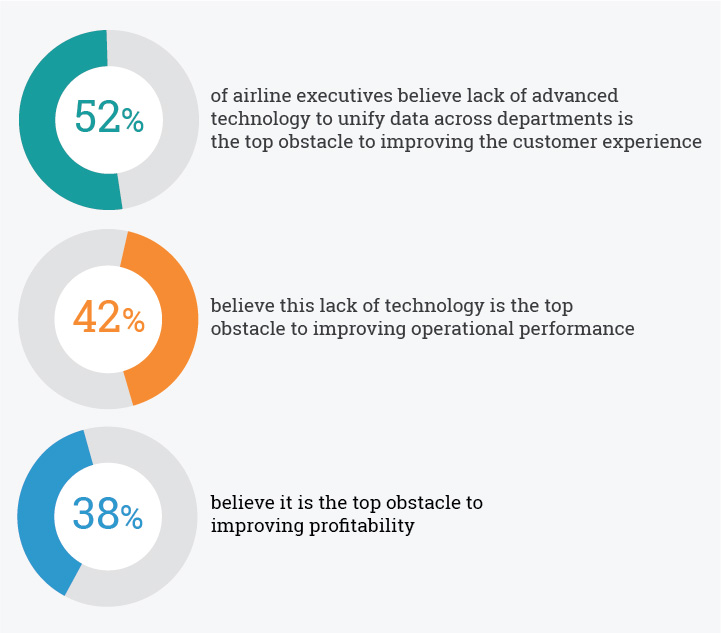 In March 2017, the first of three, briefing papers, "Bridging the Gap between Airline Operations and the Passenger," will be released. Based on additional in-depth interviews with key global airline executives, it takes a deeper look at how harnessing relevant and actionable data can create real-time situational awareness for operational leaders.
The goal is to deliver the right data that enables the right decisions, in real time, to improve and balance operational performance with the customer experience.
As Wan Qingchao, DGM of SOC for Air China stated:
"Addressing the [data] problem requires focusing on making data accurate as well as turning it into something that is actionable for leaders, or 'a single version of the truth.' "
Airlines are data-rich and that data represents tremendous knowledge about operations, customers, and finance. The challenge and the opportunity are to find the key to unlock this knowledge and make it available to all decision makers across all operations.
Improving performance and increasing customer satisfaction do not need to be mutually exclusive objectives. The airlines that are now seizing this opportunity and those that can move faster than their competitors to tame this challenge will have a significant competitive advantage.
The series of in-depth briefing papers by Sabre and Forbes Insights will present unprecedented insights to how airline executives are recognizing this opportunity and how they are rapidly moving to take advantage of this rich data through unifying technology and integrated business processes.
Take your first step in understanding how to create a competitive advantage. Register to receive the first briefing paper, "Bridging the Gap between Airline Operations and the Passenger," here.