Walk up to a Johnny Cupcakes storefront and you'll see the words "freshly baked", "no carbs", and "sugar-free" plastered on the windows. There's an aroma of vanilla in the air, employees are wearing aprons, and the products are showcased in industrial-sized refrigerators. But if you're looking to satisfy a sweet tooth, you'll be disappointed. Johnny Cupcakes doesn't sell pastries – he sells t-shirts.
Johnny "Cupcakes" Earle's achievements are a beacon for growth and success. He has hundreds of thousands of loyal fans across the country, many of whom camp out overnight in front of these bakery-look-alike t-shirt shops just to buy a limited edition release. This cult-like brand loyalty is what makes Johnny Cupcakes a perfect example of how an unconventional approach to business can yield major results.
Last week Sabre hosted the 2016 Travel Technology Exchange (TTX) in Miami, Florida. Johnny shared his business journey with travel professionals from around the industry and talked about how they can use his story to enrich their customer experiences and brand loyalty. Here are the five special ingredients he has used to bake his success:
Invest in yourself, then reinvest in yourself
Johnny is known as the kid who created "16 businesses before age 16." In school, he began trading whoopee cushions for snacks, then selling them for a profit. After an allergy related suspension, he switched to selling something safer – candy. Most days he came home with a backpack full of cash. Instead of buying things for himself, Johnny invested the money into new ways to MAKE even more money.
"If you really want to grow it's important to reinvest in yourself," Johnny said.
His businesses have ranged from lemonade stands to haunted houses and yard sales. No matter what he was doing, Johnny was always investing. His first set of Johnny Cupcakes t-shirts drew so much interest that he started to sell them out of the back of his car. For every twelve t-shirts sold he'd buy 24 more. Through a gradual and natural progression, the business grew.
"When you start making money, whether you're working for yourself or a company, it's attractive to get your car fixed or buy some new sneakers," he said, "but if you really want to grow, reinvest that money into yourself, whether it's business cards, a new website, or just some classes on marketing or business."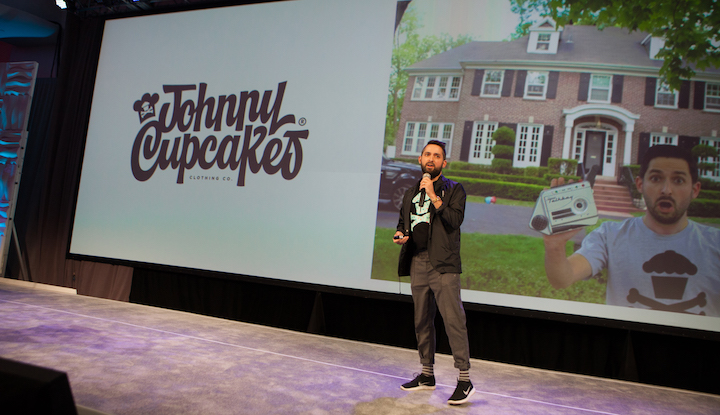 Don't be afraid to fail
Johnny failed many times. "Don't be afraid to fail. To reinvent yourself, you must try new things. That's how to stand out," Johnny said.
Businesses grow stale if they are not trying new things. Customers start to forget, which makes room for another, more innovative company to steal your customers away. Being afraid of failure can be crippling to an individual and a business, and the acceptance of failure is a chance to learn and improve.
"It's when you become comfortable that another company comes in and steals the excitement," he said. "You have to keep people guessing, keep people talking, get people to want to write about you and do stories about you because what you're doing is so innovative."
Create unique experiences
Unique experiences in every step of a customer's journey will set your business apart. The Johnny Cupcakes store is made to look like a bakery. The staff wears aprons like real bakers. Every t-shirt Is packaged to look like a box of cupcakes, a tub of ice cream or even a package of meat – all based on the theme of the shirt. Shirts are placed in display cases and industrial refrigerators on cupcake pans. Johnny said using these unique merchandising tactics isn't the least expensive option, but it's what sets his store apart.
"Our furnishings take more time and money to acquire, but they add to the experience, and that's what people are looking for" he said. "I could save a lot of money by going to a generic furniture store, but if I did that my shop would look just like everybody else's."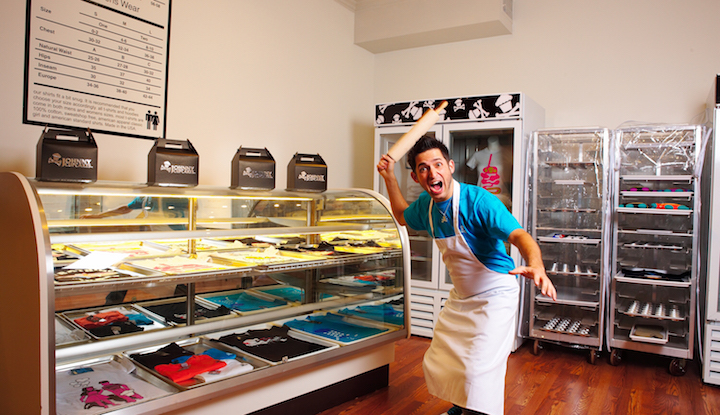 Johnny Cupcakes is leading the charge with an effective advertising and marketing strategy – word of mouth. In one collaboration event with The Simpsons, a giant Homer Simpson mascot came to the store and hung out with the customers.
"If a millennial drives by and sees Homer Simpson, there's a really good chance they're going to pull over just to get a photo," Johnny said. "Then they're going to tag the Johnny Cupcakes account, use our hashtag, and they may even walk in and get a shirt. That word of mouth and online reach is most important. The more unique your approach is the more people are going to stop and listen to what you have to offer."
A unique experience for customers occurs when advertising and marketing is done differently. By creating real experiences, the customers do the talking. Having customers share stories is more valuable than the $35 they would have made by selling the shirt. It's an experience, a memory for life, and it can be done in any industry if you play your cards right.
Collaboration is the new competition
"What's really special about collaborating isn't the financial benefit," Johnny said, "but it's the cross pollination of someone else's customers learning about you and vice versa, and those could become customers for life."
One of the more successful collaborations was a partnership with Hello Kitty. Hello Kitty posted pictures of the shirts to their 10 million Facebook fans, which sent sales skyrocketing. Their website nearly crashed and Cupcakes generated a quarter of a million dollars in sales with no money spent on traditional advertising.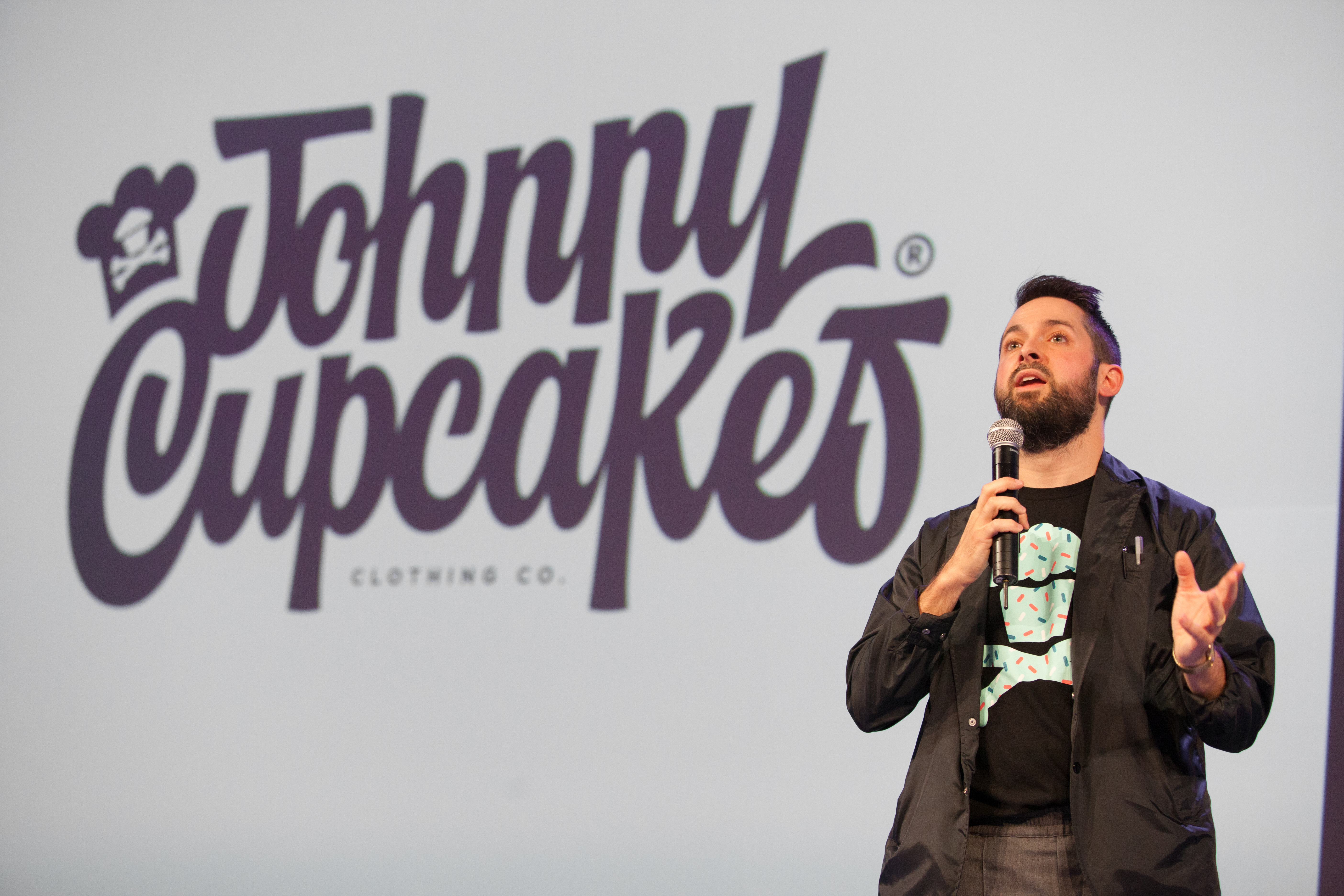 Little things can yield big results
Simple details like handwritten note to customers can be applied to any business. Writing a simple note to a customer and using their name can create enough excitement to get a share on social media and create a customer for life. Sometimes the details are free, sometimes they cost money, but if it sets you apart it has value. Attention to the little details can have a major impact on your business.
"Your business card, website, resume, even emails are an extension of your personality," Johnny said. "They represent you and the business you're working with. Make them unique if you want to stand out."
You can view the recording of Johnny's talk and other keynote general sessions on our livestream page.