DATA GROWTH AND NEW TECHNOLOGIES DRIVING INNOVATION
Sabre Airline Solutions® has released a new whitepaper highlighting the business challenges faced by airlines in the area of customer data, retailing, and personalization. Brand differentiation and personalized sales and service are becoming increasingly strategic areas for leading airlines due to their market share and profit potential. In the whitepaper, Sabre discusses the unique complexities in the industry, analyzes new findings about revenue potential, and discusses ideal solutions for these problems in the market place.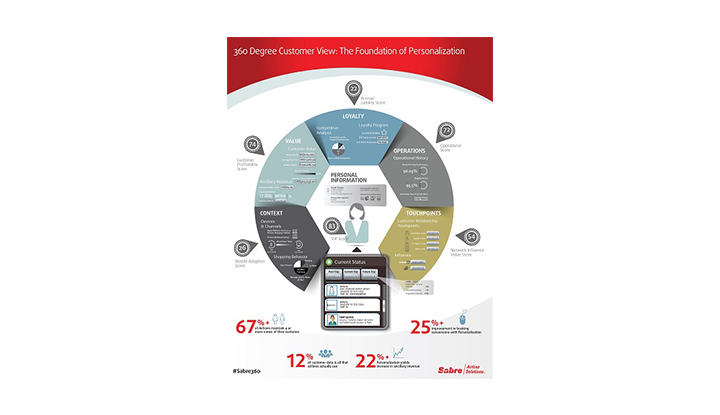 What is a master customer profile? Ideally, a 360-degree view includes the exhaustive list of attributes about the customer. This begins with descriptive attributes such as contact information, demographic and psychographic segments, interests, and stated preferences. The value of the customer is also important. A full and accurate view of a customer's lifetime and potential value would source data such as total revenue, contribution to margin, ancillary purchase history and loyalty-program information.
Attempting to personalize a traveler's journey is automated guesswork without comprehensive data about that individual. For too long, technology has been unable to empower airlines with a full view of their customer. The combination of transactional, operational, social, behavioral, and many other data sources with real-time relevance will be the key differentiator for airlines. Using data to drive uniquely targeted customer offers has shown an ROI of 22 percent or higher for some airlines.
To read the rest of the story, download the full whitepaper!