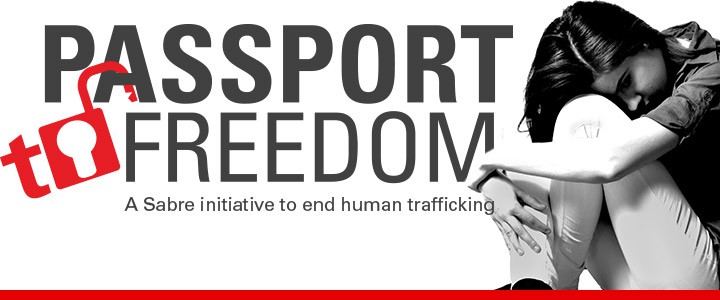 "Education is the key to unlock the golden door of freedom" – George Washington Carver
Inspired by the extraordinary stories of survival shared at the September 2012 Passport to Freedom launch event, Sabre committed to create a scholarship program dedicated to making post-secondary education and vocational training attainable for trafficking survivors. In 2014, Sabre announced the first ever academic scholarship fund of its kind, created especially for human trafficking survivors. Our vision is to help pave the way for secure and sustainable employment opportunities. With the support of our travel industry and technology partners, the long-term vision is to offer job placement opportunities for scholarship program graduates.
Awards
Sabre will offer up to five, one-time and renewable scholarships per academic year. The maximum total award per recipient is $10,000.
Selection process
Awards will be determined by a scholarship selection committee comprised of non-profit partners, hotel and airline partners, and Sabre employees. Committee members have been approved by Silicon Valley Community Foundation (SVCF). Preferred consideration will be given to applicants who are pursuing an education or certification in the travel, tourism, hospitality, or technology industries.
Selection criteria include:
Financial need
Academic potential
Qualities of character: resilient, determined, flexible, good-natured
Special consideration given to students pursuing travel, tourism, hospitality, or technology related programs
Key dates
April 25
Application period begins
May 31
Deadline for application submission
July 15
Notification letters sent out
August 31
Deadline for award recipients to submit the Scholarship Acceptance and Agreement Form and verification of enrollment
September – December
Scholarship payments mailed out
Eligibility requirements
Must be a trafficking survivor, which includes individuals who have been exploited by one or more of the following situations:

Labor or service compelled by force, fraud, or coercion for any location or industry.
Debt bondage, using a debt to compel labor from a person.
Commercial sex completed by force, fraud, or coercion in brothels, street prostitution, escort services, child sex tourism, or pornography.
Unlawful recruitment of children under 18 by government or non-government armed forces to be used as combatants, cooks, servants, messengers, spies, or sex slaves.

High school graduate, GED recipient, or current or prospective college student
Minimum cumulative grade point average of 2.5 on a 4.0 scale (If a graduating high school senior or current college student. Not applicable if out of school for more than 10 years.)
Part-time or full-time enrollment (as defined by the school of attendance) at an institution accredited by the U.S. Department of Education.
Master's degree students, students pursing a Doctorate, or students pursuing a second degree or certification are not-eligible.
U.S. citizen or eligible non-citizen (U.S. legal residents or T-visa holders)
Application process
Our Application Guide outlines how to apply for the Passport to Freedom Survivor Scholarship. It includes a scholarship overview, eligibility requirements, steps to apply, and a list of required documents. To apply, you will be required to complete an application and provide certain background information. We strongly recommend that you request required transcript document as the first step in the application process as these may take the most time to process.
Applications are currently open and run through May 31.
Notifications of awards will be mailed to applicants in mid-July to the address provided on the application. If awarded, scholarship funds are directly to your college financial aid office after Silicon Valley Community Foundation receives the completed scholarship recommendation documents. Awards will be sent directly to the academic or training institution between September and December so applicants may need to request a payment extension from their institution.
Please mail completed application for and all required documents to:
Sabre
Attn: Passport to Freedom Program Manager
3150 Sabre Drive
Southlake, TX 76092
Questions?
Email us at sabre.corporate.responsibility@sabre.com