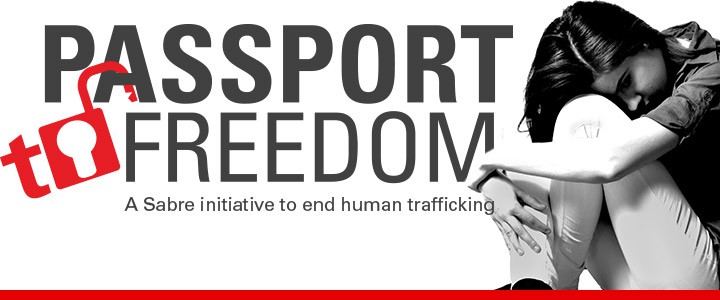 ONLINE TRAINING
In less than 30 minutes, you can become informed and personally aware about human trafficking by takingour online training course.
SURVIVOR SCHOLARSHIPS
"Education is the key to unlock the golden door of freedom" – George Washington Carver
Inspired by the extraordinary stories of survival shared at the September 2012 Passport to Freedom launch event, Sabre committed to create a scholarship program dedicated to making post-secondary education and vocational training attainable for trafficking survivors. In 2014, Sabre announced the first ever academic scholarship fund created especially for human trafficking survivors. The Passport to Freedom Survivor Scholarship fund is an advised fund at Silicon Valley Community Foundation. Our vision is to help pave the way for secure and sustainable employment opportunities. With the support of our travel industry and technology partners, the long-term vision is to offer job placement opportunities for scholarship program graduates.
The application process is currently closed and will reopen in January 2016. See our scholarship page for more details and information on how to apply.
MAKE A DONATION
Help support a survivor. Donate to the Passport to Freedom Survivor Scholarship fund.
DONATE WITH
YOUR ACTIONS COUNT – BE A RESPONSIBLE TRAVELER
Sabre is proud to partner with the United Nations and Marriott in support of "Your Actions Count – Be a Responsible Traveler", an awareness campaign to help fight the trafficking of humans, wildlife, cultural artefacts, illicit drugs, and counterfeit goods. Tourists around the world can be part of the solution by making more educated decisions while traveling. To learn how you can be a responsible traveler, visitbearesponsibletraveller.org.
LEGAL SUPPORT FOR TRAFFICKED VICTIMS
The William Wilberforce Trafficking Victims Protection Action Act was passed by Congress in 2008 to protect immigrant children and persons from sex traffickers trying to bring them to the United States. The Sabre legal team aims to help support all trafficked victims through a pro-bono initiative as part of Passport to Freedom. By taking on casework and staffing intake clinics, the team offers legal assistance to non-profit organizations like Mosaic Family Services, Grapevine Relief and Community Exchange (GRACE) and theHuman Rights Initiative.